Hướng dẫn sử dụng:
- Chế độ chờ: Các phím sẽ dừng tín hiệu nhấp nháy khi nhiệt độ đã ổn định, lúc này máy đã sẵn sàng để sử dụng
- Mở thanh cài và đặt viên nén vào
- Đóng thanh cài lại và chạm vào phím pha chế phù hợp
- Phím được chọn sẽ nhấp nháy trong khi máy pha chế cho đến khi kết thúc; chạm phím để dừng bất kỳ lúc nào
Buenos Aires Lungo Nespresso - Độ mạnh: 04/13
The sweet popcorn note and mild character of this Arabica and Robusta blend is a delicious complement to the vibrant city life of Buenos Aires.
A destination for true foodies, Buenos Aires is a highlight of Argentina's vibrant food scene. Sweetness prevails, and coffee is no exception: they love it sweet and milky! WORLD EXPLORATIONS BUENOS AIRES LUNGO blends a gently roasted Colombian Arabica with Ugandan Robusta to deliver distinct cereal and sweet popcorn notes. A tribute to the city's love for smooth long cups.
Drink it like a local: Add a generous drop of milk and sugar at will to your Lungo for an extra treat.
ORIGIN
Crafted with washed Colombian Arabica that adds delicate fruity acidity, and lightly roasted Ugandan Robusta that brings out malty cereal and sweet popcorn notes in the blend.
ROASTING
This coffee is gradually roasted in two controlled splits to ensure its light profile is preserved. The second split is smaller but is roasted for slightly longer to deliver some intensity and body to the blend.
AROMATIC PROFILE
Buenos Aires Lungo is an aromatic and balanced blend with nutty cereal notes, abundant sweetness and characteristic popcorn notes.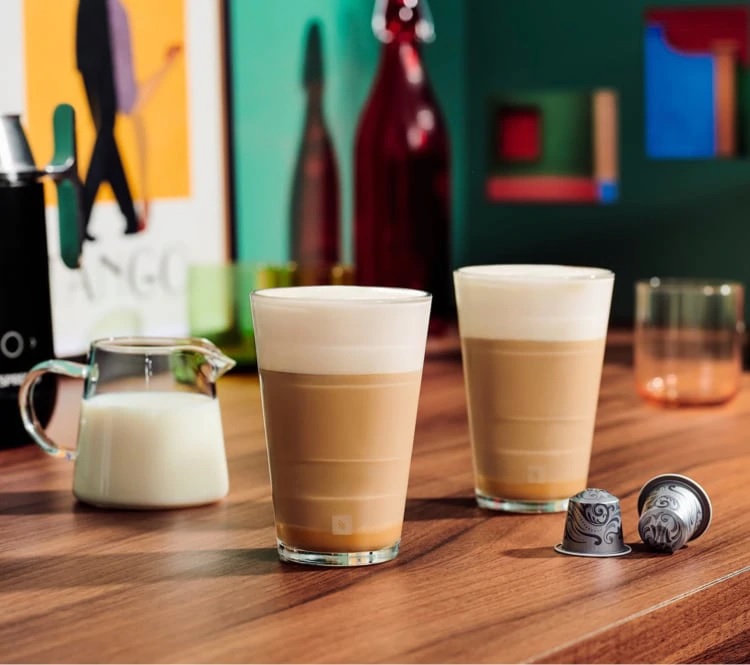 Tokyo Vivalto Lungo - Độ mạnh 06/13
Known for tea, the Japanese also have a real affinity for coffee. Striving for sophistication and natural sweetness, they love both a rich coffee and a balance of elegant aromas. World Explorations Tokyo Vivalto Lungo captures the essence of these preferences with refined Ethiopian and Mexican Arabicas. Complex, floral, with a hint of acidity – you will be pleasantly surprised by this cup. This new blend's recipe called for a jump to intensity 6, up from the former 4. Despite the changes in the blend, its complexity and balance are the same as what you first fell in love with.
Drink it like a local: Extract your long black cup up to 150ml and take time to savour its aromas.
ORIGIN
A combination of Ethiopian and washed Mexican Arabicas contrast beautifully to give this Lungo a rich flavor with delicate floral and fruity notes.
ROASTING
A shorter, lighter roast of the Ethiopian coffee beans preserves the coffee's acidity and delicate flowery notes. Longer, darker roast of Mexican beans helps develop some intensity and body, while still maintaining the balanced character of the blend.
AROMATIC PROFILE
Tokyo Vivalto Lungo combines aromatic, flowery notes, refined roastiness and a hint of fruit for a balanced and complex profile.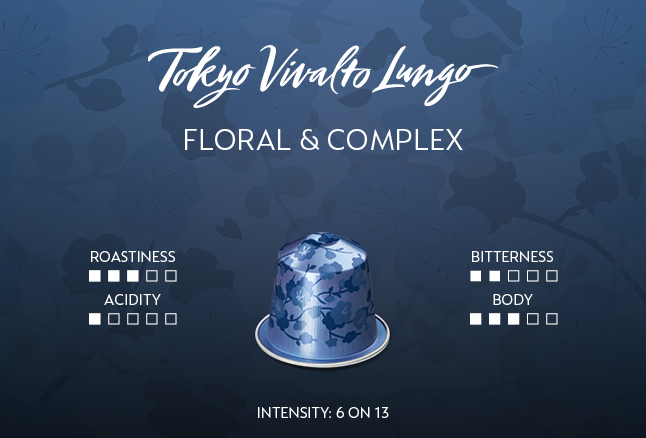 Vienna Linizio Lungo - Độ mạnh: 06/13
The perfectly balanced blend, delicious black, and ideal for the many recipes with milk or whipped cream.
From coffeehouse to home coffee gathering, this balanced blend of smooth and silky South American Arabicas pairs perfectly with your viennoiserie.
Enjoy it like a local: Top up your Lungo with hot water for a 150ml cup and pair it with a slice of cake.
ORIGIN
Our Lungo is made of Brazil's pulped, natural processed Bourbon variety beans with washed Colombian Arabica which gives it a smooth and balanced taste.
ROASTING
The Brazilian coffee is light-medium roasted which keeps it smooth and with all the Bourbon variety's malty notes intact. The washed Colombian coffee beans get a short roast to release all of their finer aromatics.
AROMATIC PROFILE
Remarkably rounded and smooth, the cup boasts malty and aromatic notes that shine through this blend.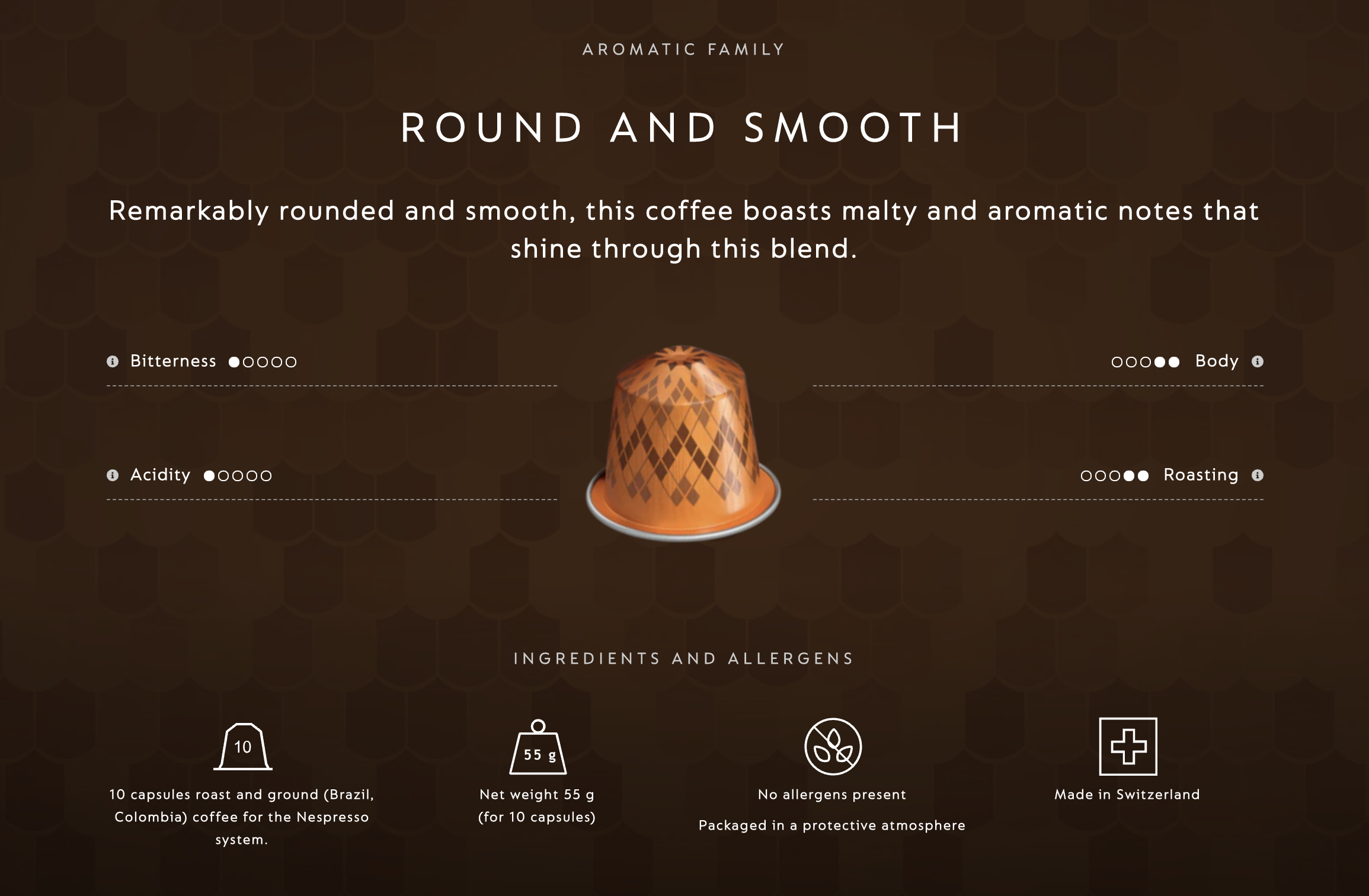 Stockholm Fortissio Lungo - Độ mạnh: 08/13
Swedes are among the world's biggest coffee consumers. Wander around Stockholm, and you'll often find intense black coffees with a malty savoury note coming from the distinctive Monsoon Arabica. World Explorations Stockholm Fortissio Lungo recreates the aromatic profile of a Swedish coffee by coupling Monsooned Malabar with Colombian Arabica for an intense, sweet cup with a hint of bitterness.
Drink it like a local: Share your large flavourful cup and cinnamon rolls with friends and family.
ORIGIN
Stockholm Fortissio Lungo is an all-Arabica blend of Indian and Colombian beans which gives it a smooth taste with remarkable intensity of a pure Arabica.
ROASTING
The Monsooned Arabica gets a darker roast to enhance its body and cereal notes. A lighter roast of the washed Colombian coffee allows for all the classic finer aromatics to stay in the balance of the cup.
AROMATIC PROFILE
Stockholm Fortissio Lungo is a rich coffee with sweet cereal and malty notes accentuated with lively aromas.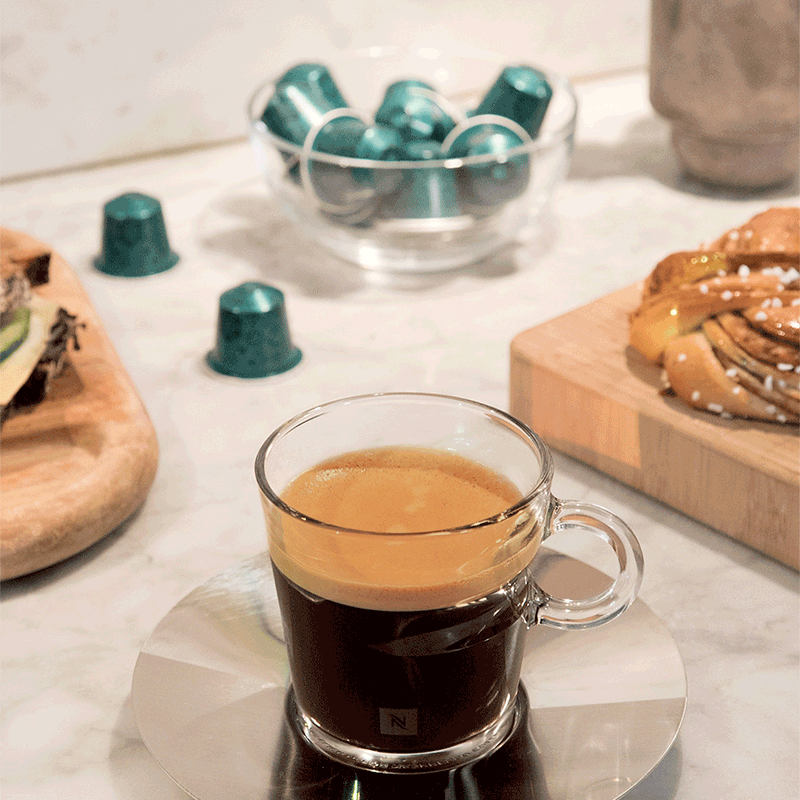 Cape Town Envivo Lungo - Độ mạnh: 10/13
This blend brings you Cape Town's taste in coffee. With South Africa as a stopping point on the old trade routes, Asian coffees shaped local taste over time. World Explorations Cape Town Envivo Lungo reflects this preference with a blend of Indian Arabica and Robusta. It results in our most intense Lungo – full bodied and with a punchy bitter note and woodsy aroma. Still consisting of the same potent coffee beans, World Explorations Cape Town Envivo Lungo now lands at intensity 10.
Enjoy it like a local: Add a splash of milk to your long cup and experience the silky texture.
ORIGIN
Our Lungo is crafted with a potent blend of Indian Arabica and Robusta. The medium-roasted Washed Mexican Robusta brings a full body, while the dark-roasted Indian Arabicas lend a punchy bitter note and a characteristically Indian woodsy aroma.
ROASTING
Both Indian and Mexican Robustas are roasted to a medium degree but separated by origin for more precise results. The Arabica beans are roasted to a darker degree for extra intensity.
AROMATIC PROFILE
Cape Town Envivo Lungo displays lively spicy and aromatically woody notes with sharp intensity coming from its powerful Robusta beans.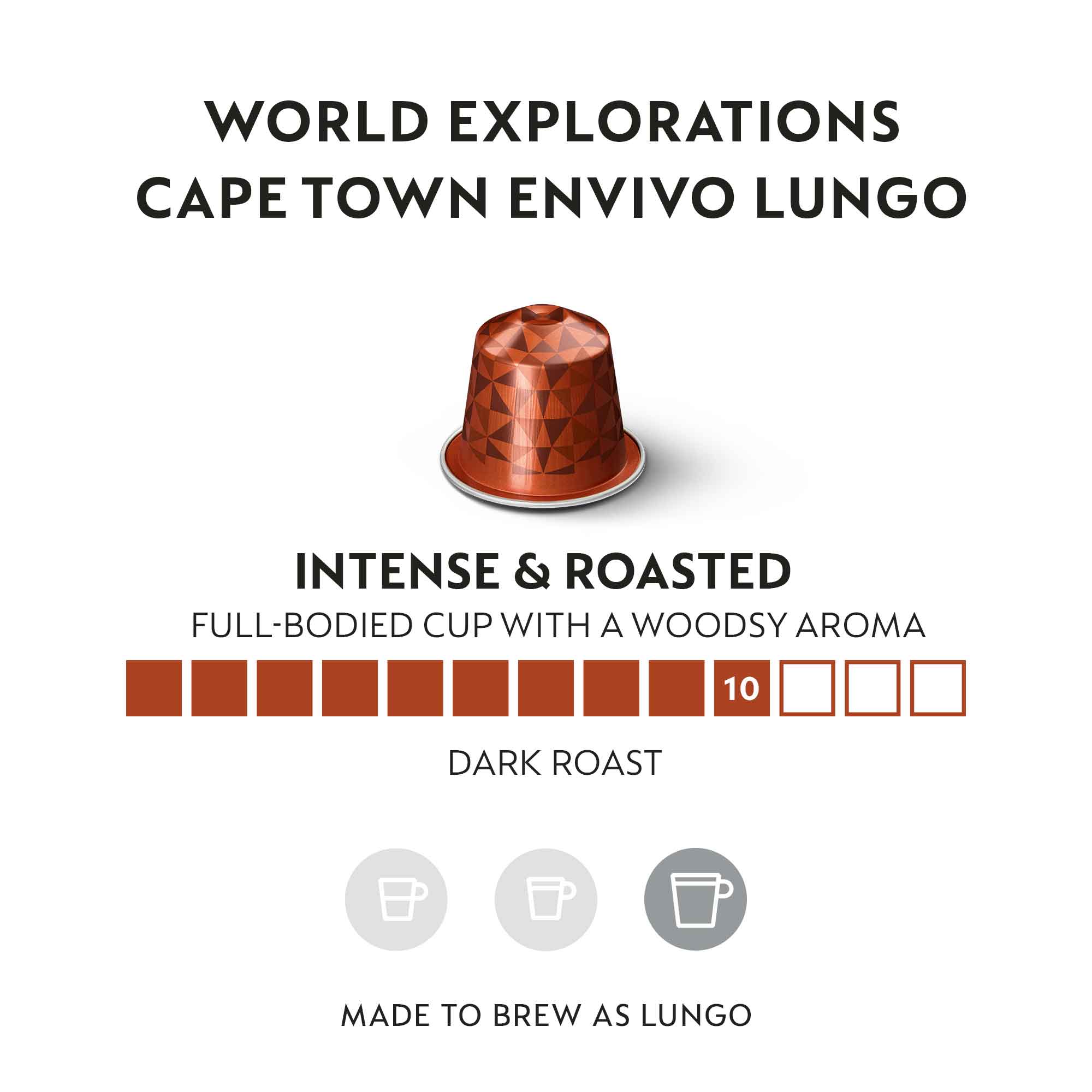 Giá sản phẩm trên Tiki đã bao gồm thuế theo luật hiện hành. Bên cạnh đó, tuỳ vào loại sản phẩm, hình thức và địa chỉ giao hàng mà có thể phát sinh thêm chi phí khác như phí vận chuyển, phụ phí hàng cồng kềnh, thuế nhập khẩu (đối với đơn hàng giao từ nước ngoài có giá trị trên 1 triệu đồng).....