Maintains healthy joints, hair, skin and nails
Enhances joint comfort and mobility
Contains sodium-free potassium stabilized Glucosamine Sulfate
Label images may vary
Doctor's Best Glucosamine Chondroitin MSM + Hyaluronic acid provides four important nutrients which help maintain healthy joints: Glucosamine, Chondroitin, methylsulfonylmethane (MSM, from optimal), and hyaluronic acid (from Bio cell collagen).* Glucosamine Sulfate helps promote joint lubrication for better joint movement and flexibility.* MSM supplies bioavailable sulfur needed for joint health. Biocell Collagen is a proven dietary ingredient that contains a patented composition of naturally occurring hydrolyzed collagen Type II, Chondroitin sulfate, and hyaluronic acid in a highly absorbable Matrix.*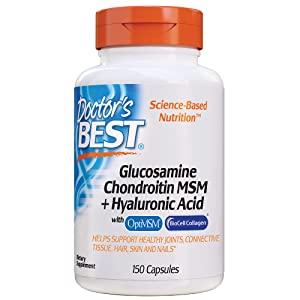 *These statements have not been evaluated by the Food and Drug Administration. This product in not intended to diagnose, treat, cure or prevent any disease.
**OptiMSM Registered
**BioCell Collagen Registered
U.S. Patent No. 6,780,841
Glucosamine Chondroitin MSM + Hyaluronic Acid
Doctor's Best Glucosamine Chondroitin MSM + Hyaluronic Acid provides four important nutrients which help maintain healthy joints: glucosamine, chondroitin, Methylsulfonylmethane (MSM, from OptiMSM), and Hyaluronic Acid (from BioCell Collagen).* Glucosamine sulfate helps promote joint lubrication for better joint movement and flexibility.*
Glucosamine sulfate (GS) supports joint function by supplying the body with dietary ingredients (glucosamine and sulfur) for manufacturing proteoglycans in healthy joints. MSM supplies bioavailable sulfur needed for joint health. BioCell Collagen** is a proven dietary ingredient that contains a patented composition of naturally occurring hydrolyzed collagen type II, chondroitin sulfate, and hyaluronic acid in a highly absorbable matrix.*
Feed Your Joints & Skin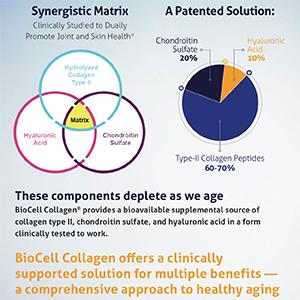 What are the benefits of Glucosamine/Chondroitin/MSM Plus HA?
Take charge of your active lifestyle make sure that your joints stay healthy. Keep your joints nourished and lubricated!
Helps support strong, healthy and flexible joints*

Helps support healthy hair, skin, and nails*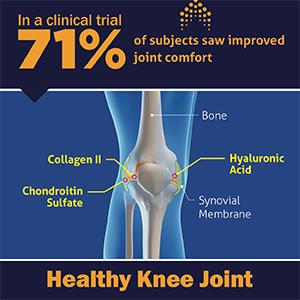 Why take Glucosamine/Chondroitin/MSM Plus HA?
Provides an all-in-one formula that brings together joint and skin health ingredients in substantial amounts.*

Glucosamine sulfate (GS) and chondroitin sulfate (CS) have been the topics of intense and fruitful research into joint health over the past few decades.*

Levels of GS & CS seen in the most acclaimed research are offered in this complete formula.*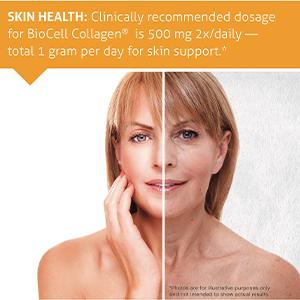 How does it work?
Glucosamine alone and MSM alone were shown to enhance joint function, while the combination was found to be even more effective in supporting joint comfort and mobility, by both subjective and objective measurements.*

HA plays a direct role in the attraction and maintenance of moisture in the skin. As HA concentrations naturally decrease in the elderly, it may become useful to take HA to help skin to retain moisture.
Doctor's Best Glucosamine Chondroitin MSM + Hyaluronic Acid provides you with the perfect combination of potent dietary supplements that will help you maintain and support your healthy joints throughout your active lifetime.
Keeping your joints in good health is essential if you want to maintain the same level of functionality.
Glucosamine supplements are used to help prevent the breakdown of joint tissues and any associated symptoms including pain, lack of flexion, joint stiffness and weakness. Chondroitin helps keep healthy joints by absorbing fluid (particularly water). MSM provides a source of dietary sulfur and half of the body's sulfur is found in the skin, muscles, and bones. Sulfur strengthens joint tissues and helps with elasticity.
The BioCell Collagen II in Glucosamine Chondroitin MSM + Hyaluronic Acid provides a safe, natural, standardized source of building blocks useful for maintaining joint structure and function, as well as promoting the integrity of healthy skin.
Giá sản phẩm trên Tiki đã bao gồm thuế theo luật hiện hành. Bên cạnh đó, tuỳ vào loại sản phẩm, hình thức và địa chỉ giao hàng mà có thể phát sinh thêm chi phí khác như phí vận chuyển, phụ phí hàng cồng kềnh, thuế nhập khẩu (đối với đơn hàng giao từ nước ngoài có giá trị trên 1 triệu đồng).....