GET GOING WITH CORDYCEPS: Kickstart daily stamina; High dose of 1500mg of organic cordyceps militaris mushroom powder; plus 200mg organic schisandra superfood powder; Help help support endurance and stamina before or after your workout PUT ME IN COACH: Organic cordyceps militaris extract supports performance for the long haul; Turn on energy and performance with caffeine-free cordyceps mushroom ANTIOXIDANT PROPERTIES: Four Sigmatic Cordyceps Elixir has the fruiting bodies of vegan cordyceps, and organic schisandra for strong antioxidant properties PERFECT FOR ALL DIETS: Perfect for our vegan, Whole30, dairy-free or gluten-free friends; Only natural organic ingredients; No carriers, fillers, natural flavors or artificial flavors; our cordyceps is suitable for vegans, with no caterpillars used DISSOLVES INSTANTLY Tastes like tea, not like mushrooms; Ready to drink in 8 fluid ounces of hot water; Add a splash of coconut milk, almond cream, raw dairy, or whisk a chunk of butter to really power up energy
GET GOING WITH CORDYCEPS: Kickstart daily stamina; High dose of 1500mg of organic cordyceps militaris mushroom powder; plus 200mg organic schisandra superfood powder; Help help support endurance and stamina before or after your workout
PUT ME IN COACH: Organic cordyceps militaris extract supports performance for the long haul; Turn on energy and performance with caffeine-free cordyceps mushroom
ANTIOXIDANT PROPERTIES: Four Sigmatic Cordyceps Elixir has the fruiting bodies of vegan cordyceps, and organic schisandra for strong antioxidant properties
PERFECT FOR ALL DIETS: Perfect for our vegan, Whole30, dairy-free or gluten-free friends; Only natural organic ingredients; No carriers, fillers, natural flavors or artificial flavors; our cordyceps is suitable for vegans, with no caterpillars used
DISSOLVES INSTANTLY Tastes like tea, not like mushrooms; Ready to drink in 8 fluid ounces of hot water; Add a splash of coconut milk, almond cream, raw dairy, or whisk a chunk of butter to really power up energy
If only the Russians had known about the power of Cordyceps mushrooms, they may still be in the Olympics (too soon?!). We can joke about the Russians because we're from Finland, but smiles aside, cordyceps is one powerful little 'shroom packed with energy support that any athlete or weekend warrior can enjoy.
Supporting energy levels goes hand in hand with better physical performance as cordyceps are known for keeping lethargy at bay. They are our secret ingredient for helping us perform athletically. Aside from supporting energy, stamina and athletic performance, Cordyceps have been studied for their strong antioxidant properties.
Our Cordyceps elixir is made by extracting the fruiting bodies of the Cordyceps militaris mushroom. Organic, non-GMO, and free from fillers and carriers. (We don't use the infamous Cordyceps derived from caterpillars in our production methods, and our product is suitable for vegans.)
Native to China and Japan, schisandra fruit is also called wu wei zi, which means the fruit of the five flavors. For years, men and women across Asia have relied on the schizandra berries to preserve their youth and beauty.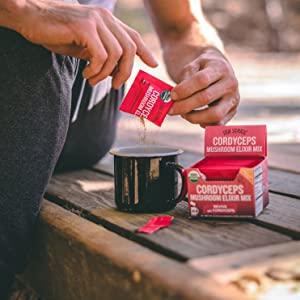 Cordyceps Elixir
High Dose Athletic Performance Support
Cordyceps will be your secret ingredient to perform athletically. Cordyceps have been studied for their role in supporting energy, stamina and athletic performance.
Pre-Workout Energy Support
The active compounds in cordyceps can increase the ATP levels in your body, and may increase your energy levels.
Antioxidant Properties
Both Cordyceps and schisandra berries have antioxidant properties.
Mix. Sip. Get Going.
Ready to drink in 8 fl. oz. hot water

20 on-the-go packets per box

Mix in coconut oil or non-dairy milk

Add to coffee or tea

Try in a smoothie

Sip before or after your workout in the morning or early afternoon
Natural, Organic Ingredients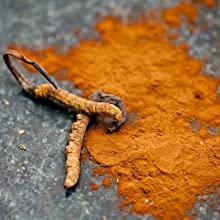 Organic Cordyceps
1500mg of the fruiting bodies of the Cordyceps militaris mushroom. Suitable for vegans, this type of cordyceps is organic, and free from fillers and carriers.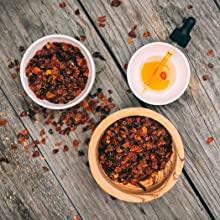 Organic Rose Hips
30%DV vitamin C per serving thanks to beautiful organic rose hips.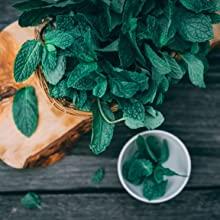 Organic Mint
To balance out the bitter taste of cordyceps, we add a delicious mint leaf.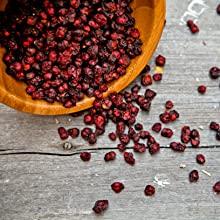 Organic Schisandra
200mg of schisandra berries. This fruit is also called wu wei zi, which means the fruit of the five flavors.
We are Four Sigmatic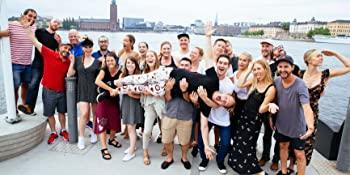 Ask Us About Our Quality
Your health and safety are our top priority. Each batch goes through extensive in-house and third-party lab testing to ensure quality and safety. We test for heavy metals, allergens, bad bacteria, yeasts, molds, mycotoxins, pesticides, irradiation, and more. Have a question? Just ask.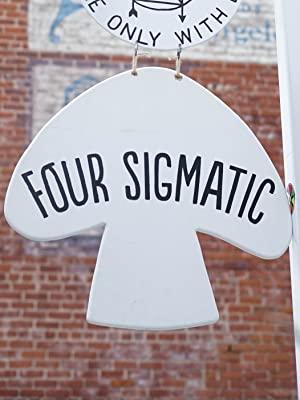 Bringing Everyday Magic to the lives of all.
We do this with the help of some of the world's most studied nutrient-dense foods—like mushrooms. Our roots are in Finland where we grew up foraging. We bring this nature-centric Nordic lifestyle to the world. From Finland to New York to Los Angeles, our team of Funguys is dedicated to the Mushroom Mission. Our dream is to serve millions of people around the world with functional superfoods and not take life too seriously along the way.
We really are us, not them. Let us prove it:
We created a café called the Shroom Room where all drinks are free.

We renovated an old school bus, named it Mauri and are driving around the country sampling mushrooms. 'Shroom 'Shroooom!

We're a fully distributed team—because going to the office every day is a snoozefest.

We created a free Mushroom Academy that teaches about the incredible fungi kingdom.

And we'd love for you to join us!
Mushrooms, Mushrooms, Mushrooms!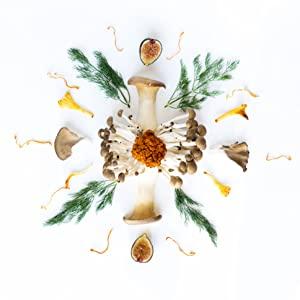 Why Do 'Shrooms?
Simple dietary tweaks can make a huge difference in your life. The easiest way to do this is with the world's most nutrient-dense foods, functional mushrooms. And to make the habit come even easier we pair them with your favorite drinks: coffee, hot cocoa, matcha and lattes.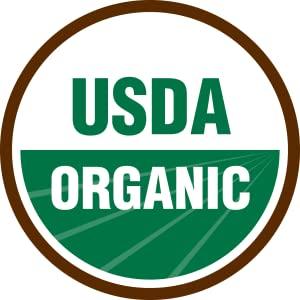 We Aim To Be:
Certified organic, plant-based, keto friendly, and low calorie, with little to no sugar and modest to no caffeine.
*79005-2 and 79003-2 Issued by Ecocert/Ceres, 2018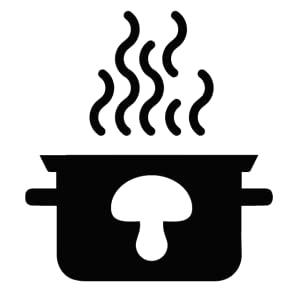 Properly Extracted
First we gather mushroom fruiting bodies from wild forest, or harvest them from our mushroom farms. None of our mushrooms are grown on grain. Then we extract them for a full-spectrum of hot-water and fat-soluble compounds. We guarantee the bioavailability of all the most important properties of the mushrooms.
Giá sản phẩm trên Tiki đã bao gồm thuế theo luật hiện hành. Bên cạnh đó, tuỳ vào loại sản phẩm, hình thức và địa chỉ giao hàng mà có thể phát sinh thêm chi phí khác như phí vận chuyển, phụ phí hàng cồng kềnh, thuế nhập khẩu (đối với đơn hàng giao từ nước ngoài có giá trị trên 1 triệu đồng).....