KZ HD Aptx CSR8675 Bluetooth Module Earphone Cable Bluetooth 5.0 Wireless Upgrade Cable Wire With 2PIN For KZ AS10 ZSN ZS10 ZSTPro ZSNPRO ZST AS06 AS10 AS16 ZSN PRO KZ Earphones
Specifications:
Attention Please, this link just Bluetooth Module, without earphones, please see clear.
KZ HD Bluetooth Module Upgrade Cable
More powerful than APTX's Bluetooth performance
CSR8675 Chip
AptXHD
Bluetooth 5.0
Low delay quickly synchronization
AAC Audio Coding
CVC Noise Reduction Technology
IPX5 Waterproof & Dust-proof
Play for 8 hours in a row
Optional item:
*Type B -- Only use for KZ BA10/ AS10/ ZS10/ ZSR/ ZST/ ED12/ ES3/ ES4 and so onearphone
*Type C-- Only use for KZ ZSN/ ZSN PRO/ ZS10 PRO/ AS16and so onearphone
Packing list: 1 X Bluetooth Module ( DO NOT include earphones)
KZ HD Bluetooth Module Upgrade Cable
More Powerful Than APTX's
Bluetooth Performance
CSR8675 Chip aptXHD Bluetooth 5.0 Low delay quickly synchronization
AAC Audio CVC Noise IPX5 Level Play for 8
Coding Reduction Waterproof hoursinarow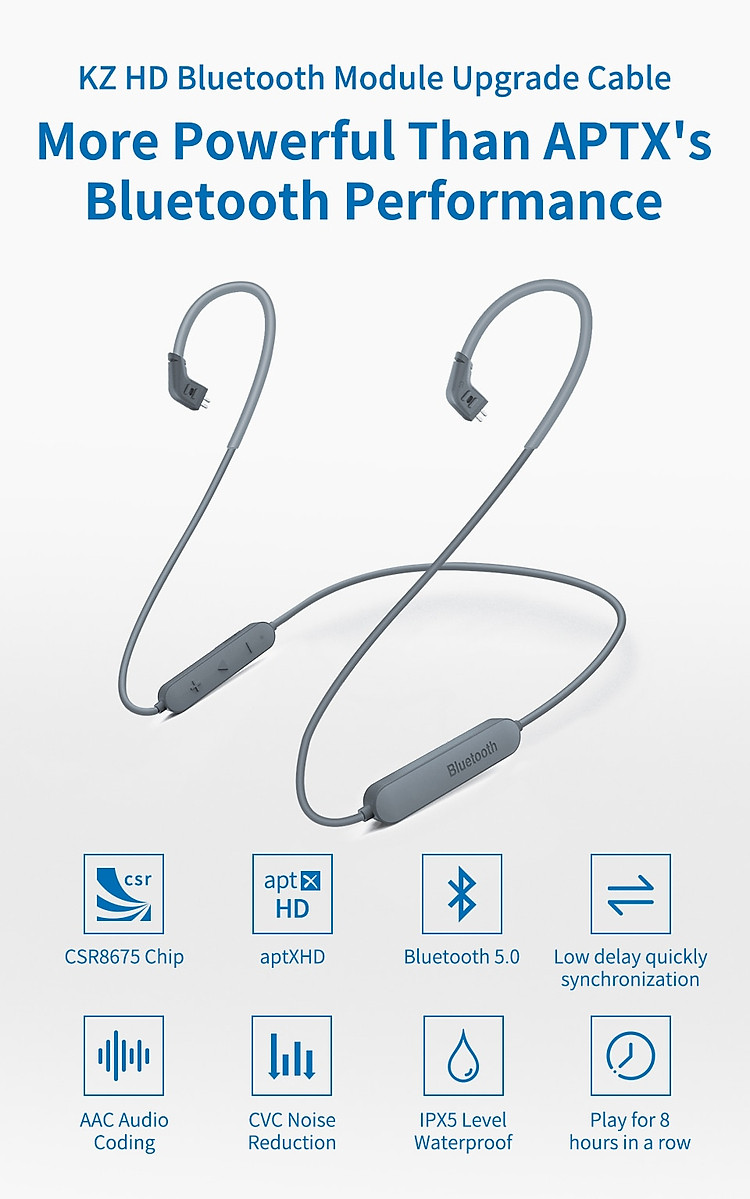 Qualcomm CSR8675
Limited by the high price of the CSR8675 Bluetooth chip, it is rarely seen in the market, and the high price is due to its overwhelming performance.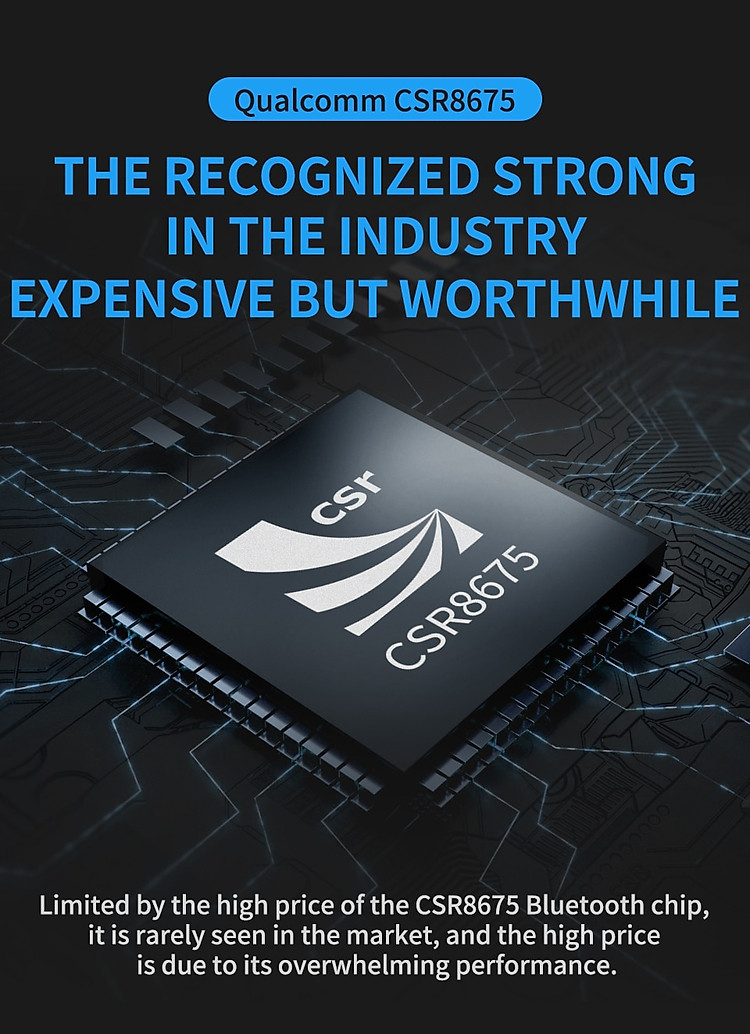 APTX-HD HD Lossless Transmission
Sound transmission performance improved nearly three times
It's nearly 3x higher than ordinary chips.
Nearly 1x higher than APTX
Compared with aptX's 352kbps bit rate, aptxHD is enhanced to 576kbps, which provides an advantage of "better than CD" listening experience.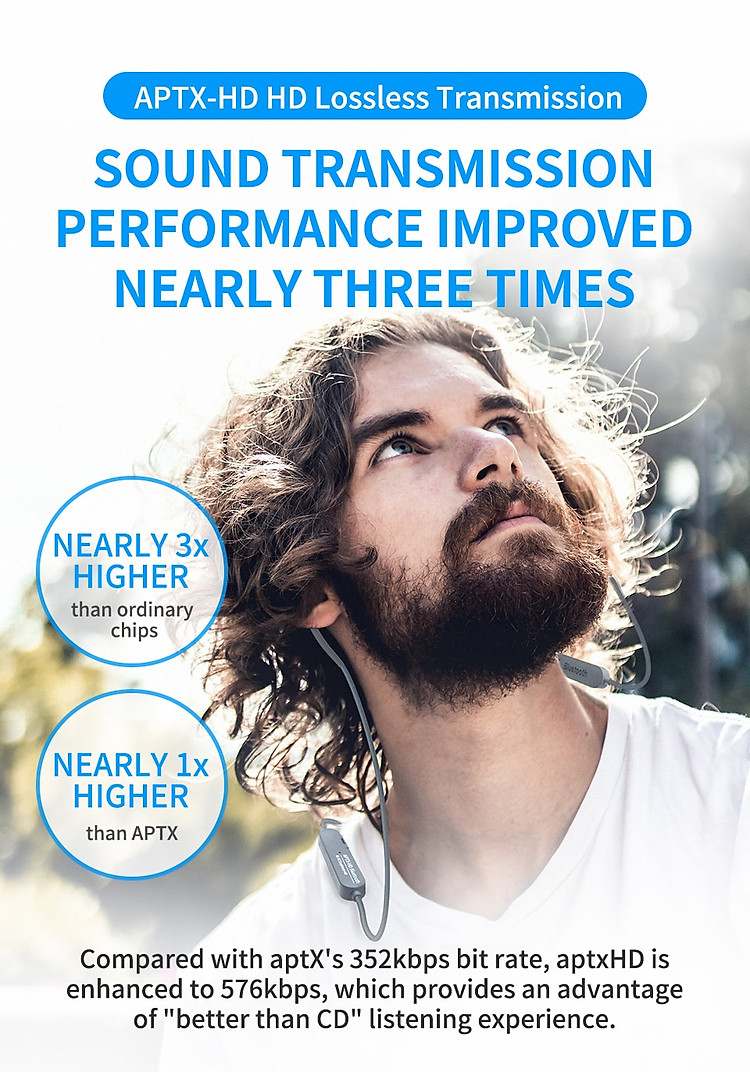 Bluetooth 5.0 + EDR
30% lower power consumption than conventional CSR chips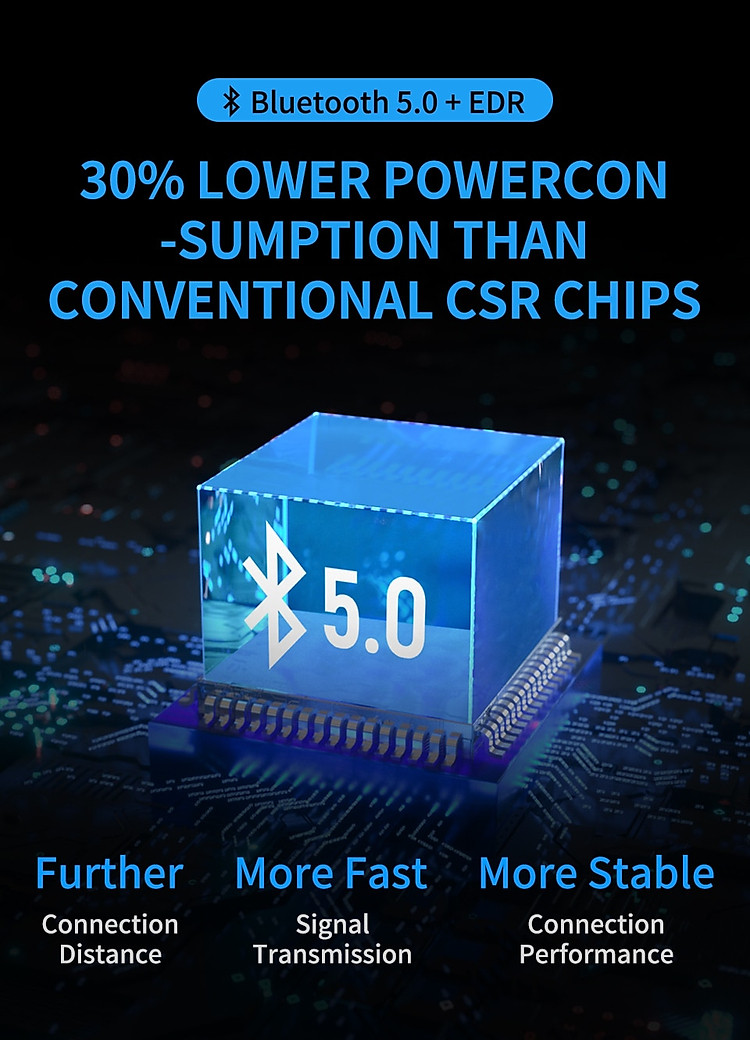 Advanced process technology
20% smaller than conventional Bluetooth chips
By using advanced manufacturing technology, the area of finished products is reduced by 20% compared with CSR8645, which contains more electronic components in a limited volume.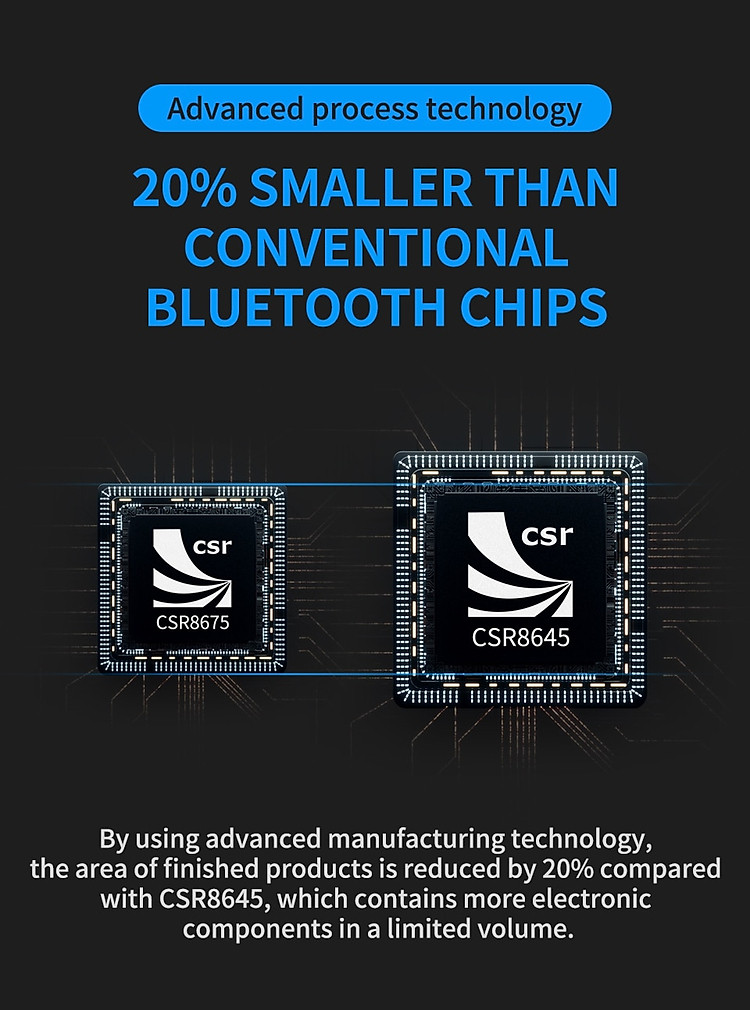 Up to 576kbps bit rate
Ultimate specifications for 99% Bluetooth devices
Most Android phones equipped with Qualcomm hardware can be used and are currently available for CSR specifications.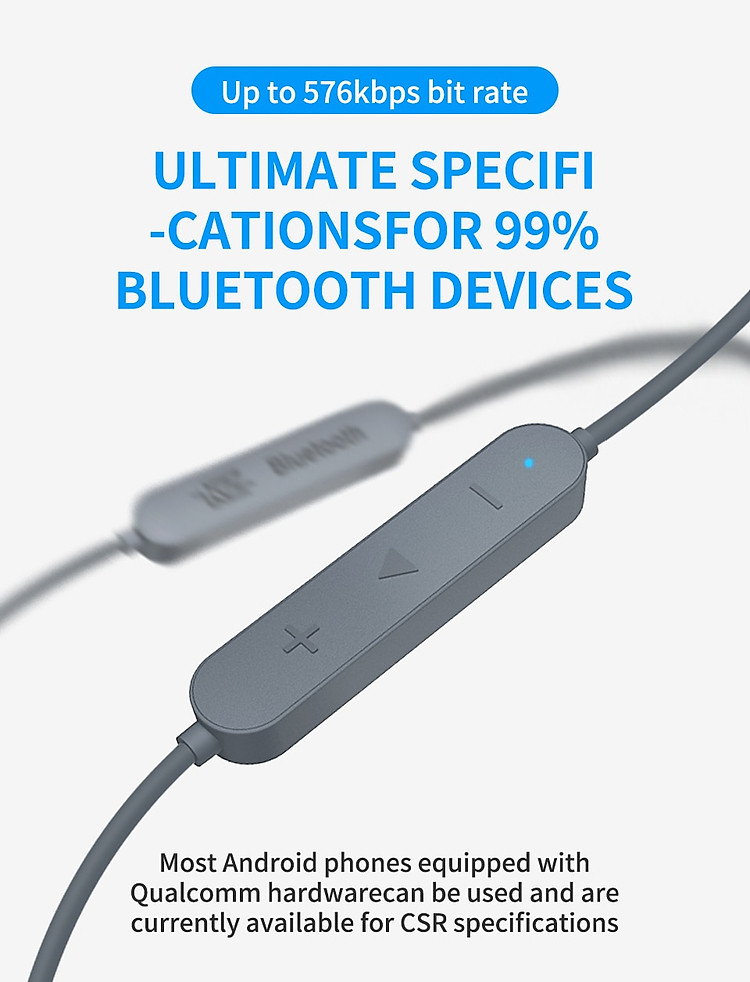 13 months of devoted research and development functions are very excellent
cVc noise cancellation microphone, like face-to-face HD call
Provide advanced audio enhancement and environmental noise suppression, excellent noise cancellation ability to solve the interference of environmental noise during the call, and provide better call quality.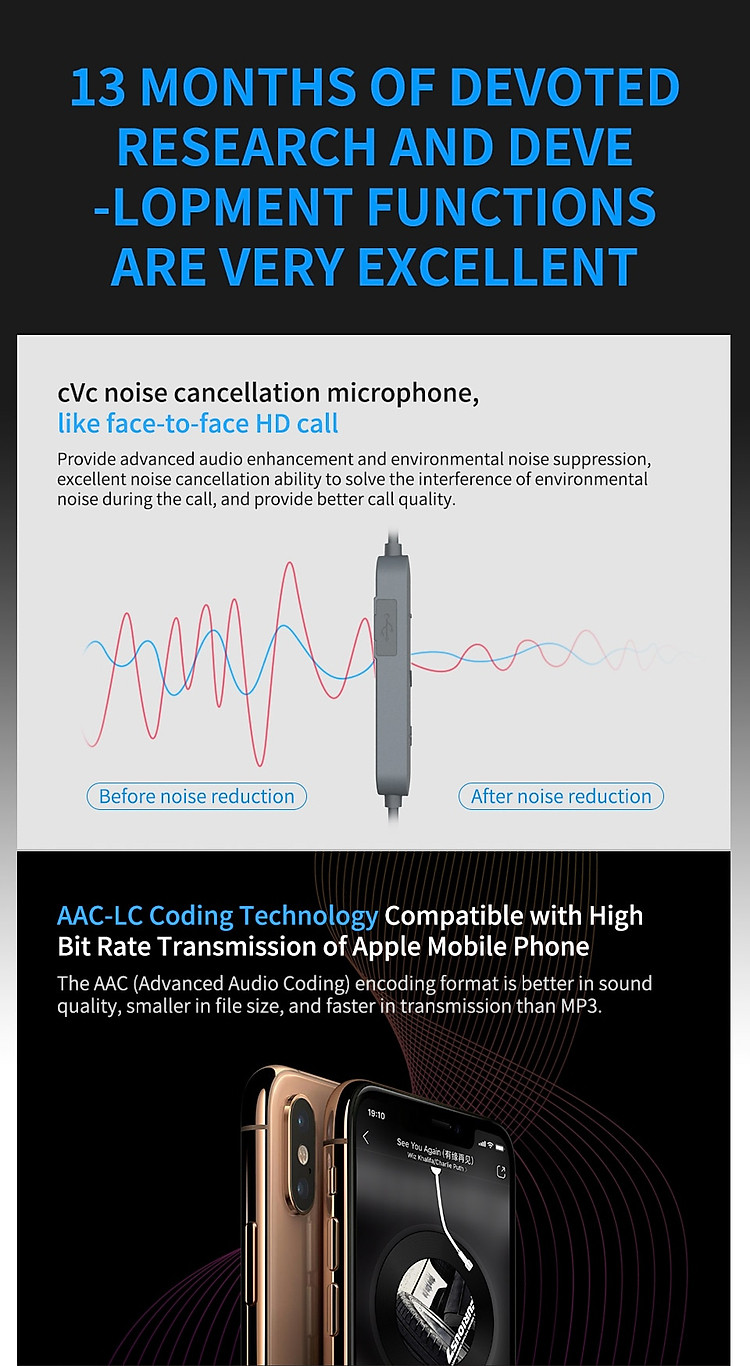 Rejecting Slow Delay,Stable Bluetooth Connection Performance
It has 3 seconds fast connection, excellent return connection speed and stronger anti-jamming ability. The clock speed of the 120MHz level of DSP has powerful operation ability and reduces the delay of signal transmission.
Industrial grade ceramic antenna,Bluetooth receiving sensitivity more better
With industrial ceramic antenna, RF radio frequency is more stable and audio signal transmission gain,At the same time, the noise figure of the receiving circuit such as the sound amplifier or the mixer is reduced,so that the Bluetooth receiving sensitivity is better.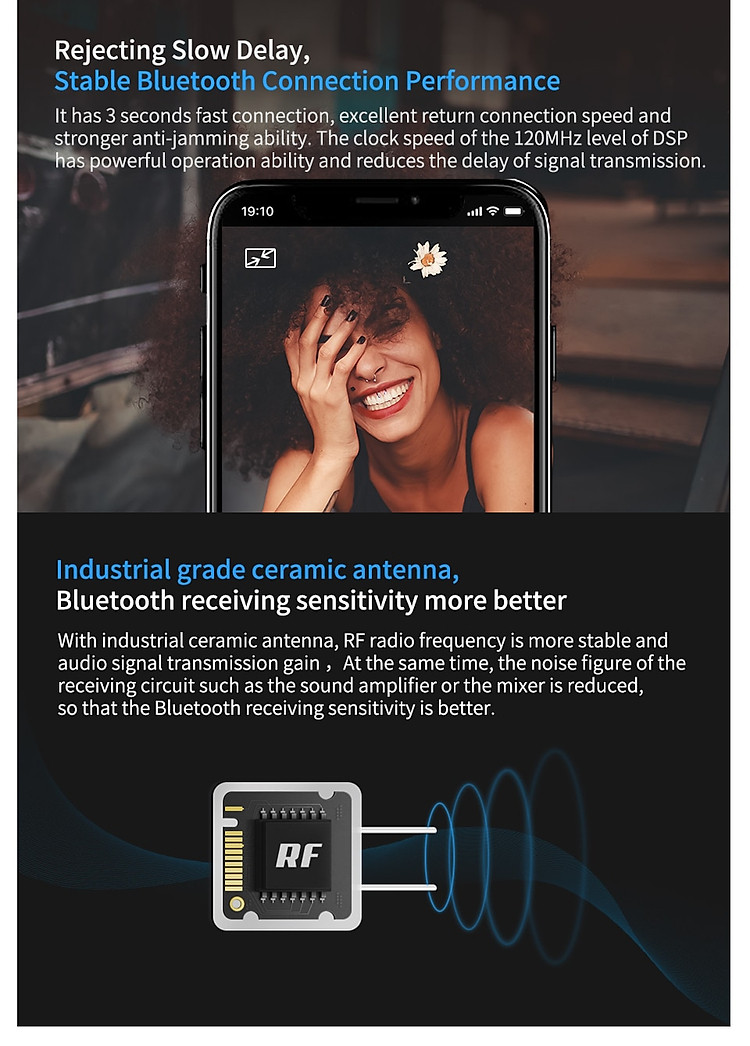 130 mAh Battery Capacity Lasts For8 Hours
130 mAhlithium battery
8 hours long battery life
100 hours long standby
2 hours fast charging
The above data were measured by KZ Acoustics Laboratory,and actual use may varyslightly dependingon the specific situation.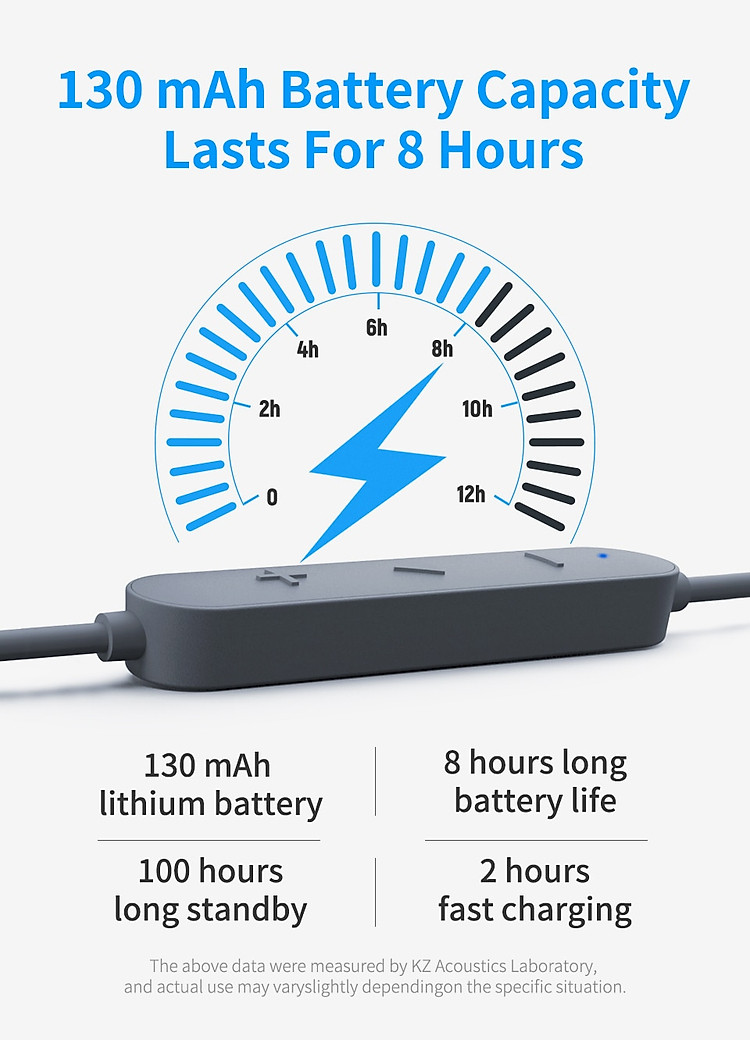 IPX5 Waterproof Certification
Running, playing, and riding, it fits tightly with your body all the time, and the waterproof and sweat-proof features let you play freely.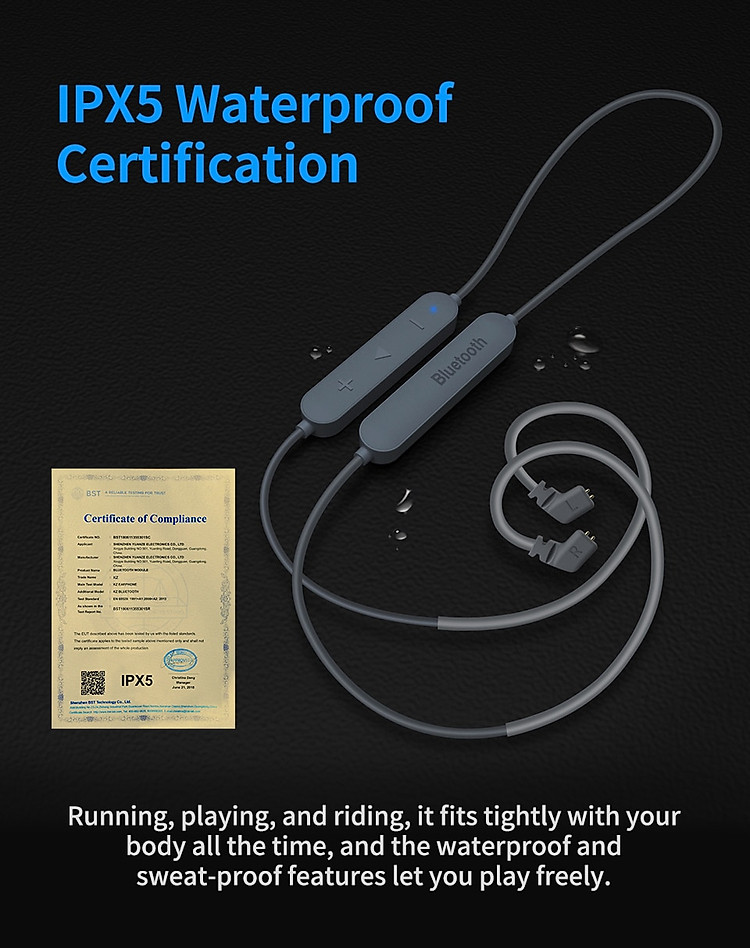 Highly Compatible
As long as the Qualcomm Snapdragon chip Android version 5.0 and above phones support APTX HD lossless audio transmission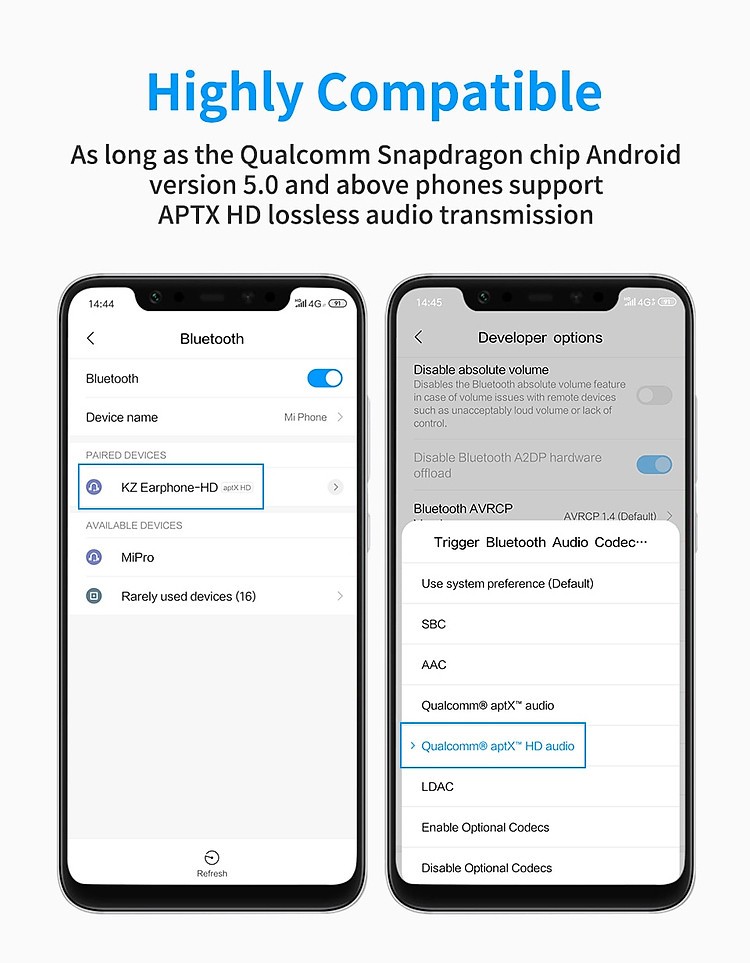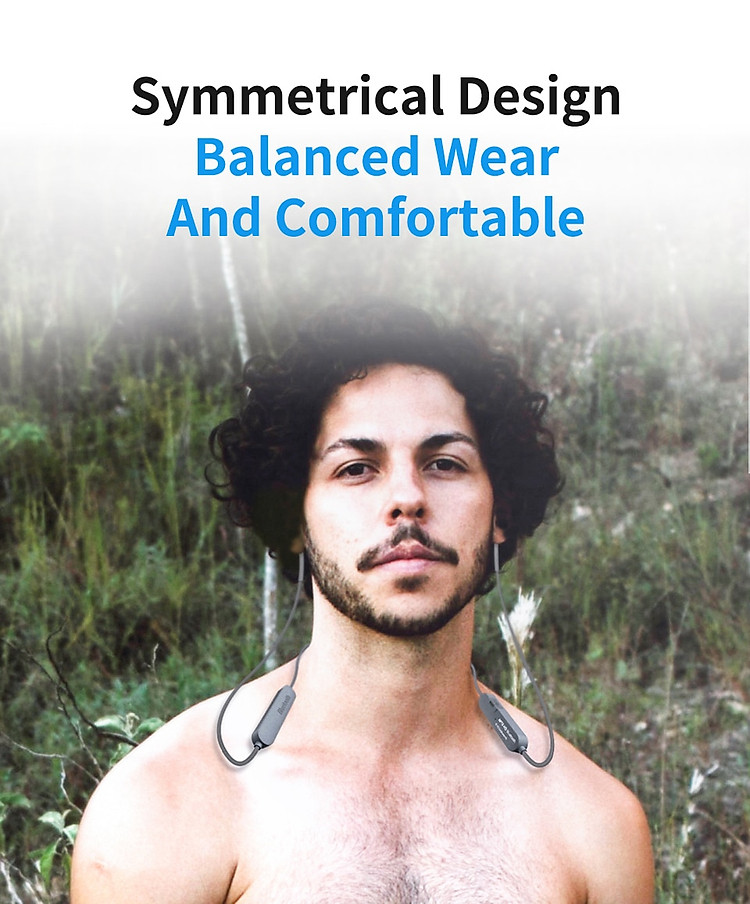 Various Specifications Of Pins For Different Models
B Pin:Adapted to a variety of earphones such as KZ-ZST/ZS10/AS10/BA10 /AS06/ES4/ZSR.
C Pin:Adapted to a variety of earphones such as KZ-ZSN/ZSNpro/AS16/ZS10pro.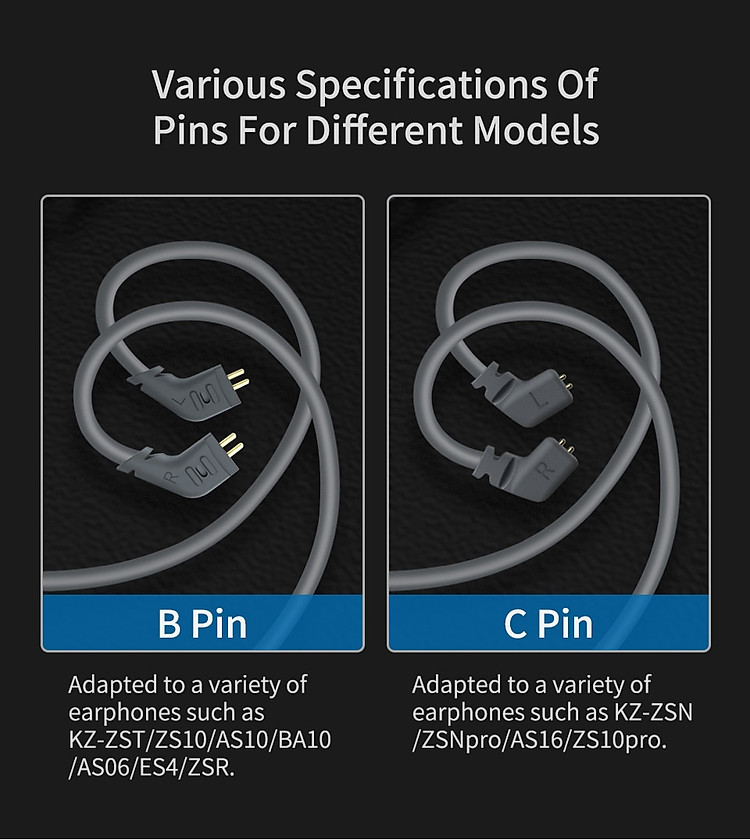 Line-control
Basic operation
Power on :Press>in the off state (the blue LED flashes and there is a voice prompt)
Pairing :Press>to boot into pairing mode (red and blue LEDs flash alternately with voice prompts)
Power Off :Press>for 3 seconds to turn off (the red LED flashes once and there is a voice prompt)
Enjoy Music一
1 ) Play/Pause :Press>to pause playback while playing, and press this button to continue when pausing.
Volume increase: Press > and when the volume reaches its maximum, there will be a sound prompt.
Volume down: Press > to decrease the volume until it is muted
Previous song: Long press> to play the previous song
Next song :Long press > to play the next song
Convenient call -
ON/OFF:Press >to answer the call, then press again hang up the current call
Phone reject: Long press> to reject the call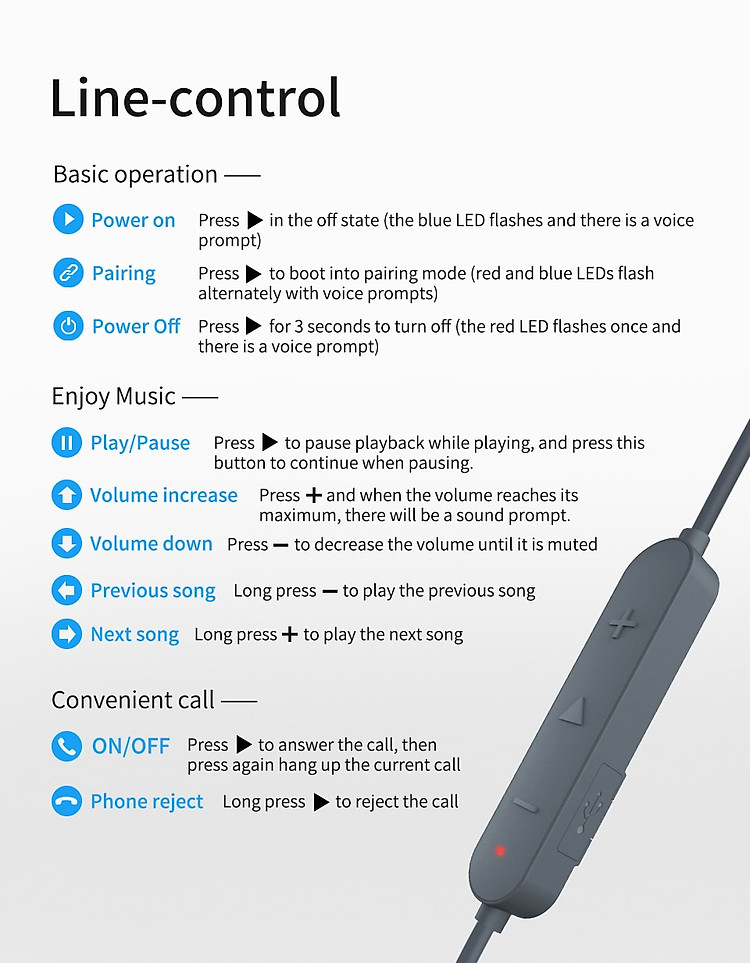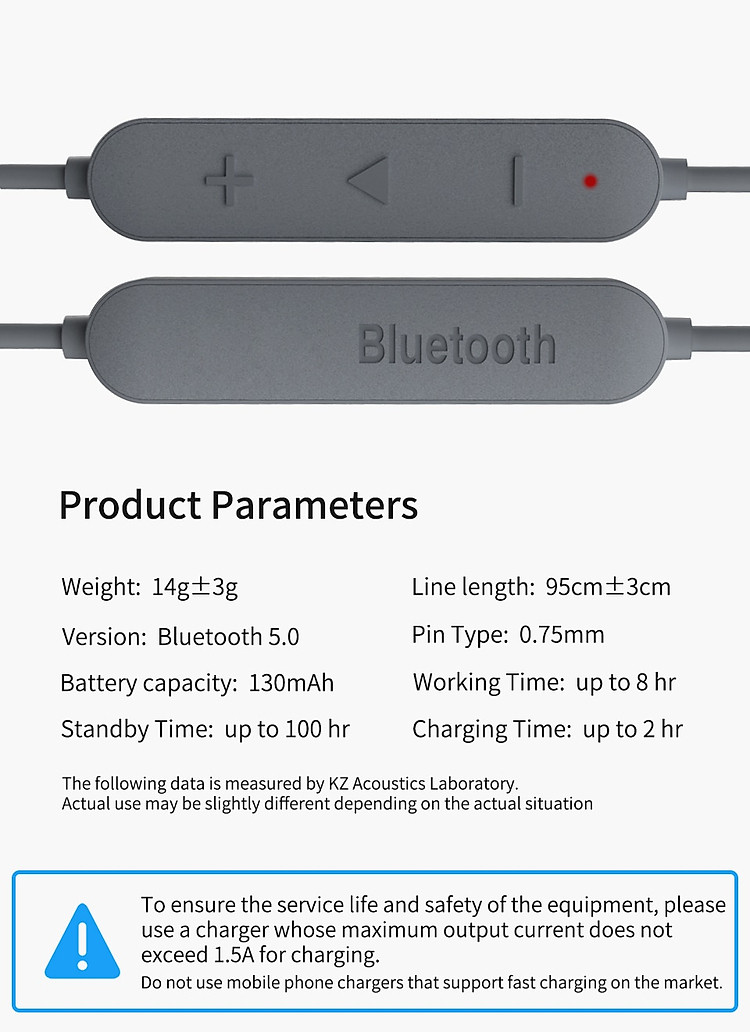 Giá sản phẩm trên Tiki đã bao gồm thuế theo luật hiện hành. Tuy nhiên tuỳ vào từng loại sản phẩm hoặc phương thức, địa chỉ giao hàng mà có thể phát sinh thêm chi phí khác như phí vận chuyển, phụ phí hàng cồng kềnh, .....