KZ ZS10/ZSTPRO/ZSNPRO Gold Silver Mixed Plated Upgrade Earphone Cable Detachable Headphones Wire Replacement Audio Cord Headphones Wire With 2PIN/MMCX Connector For SE846 Original KZ ZSN ZS10Pro AS10 AS06 ZST ES4 BA10 AS16 TRN V80 MMCX Pin Headphones
Product Specification:
1.Name: KZ Gold Silver Mixed Cable
2.Material:Gold Silver Mixed
3.Interface:3.5mm Line Type Plug
4.Connector:2pin 0.75mm/mmcx
:
1)Type B : 2Pin B pin for KZ BA10/ AS10/ ZS10/ ZSR/ ZST/ ED12/ ES3/ ES4
2)Type C : 2Pin C pin for KZ ZSN/ZSN PRO/ZS10 PRO
3)MMCX : MMCX connector Earphone
6.Package Include:only KZ 8 Core Gold Silver Mixted Cable X 1 pcs ( DOES NOT included earphone )
RARE 200 CORE Gold Silver Cube Mixed Cable
KZ Reference level HIFI Earphones braiding upgrade cable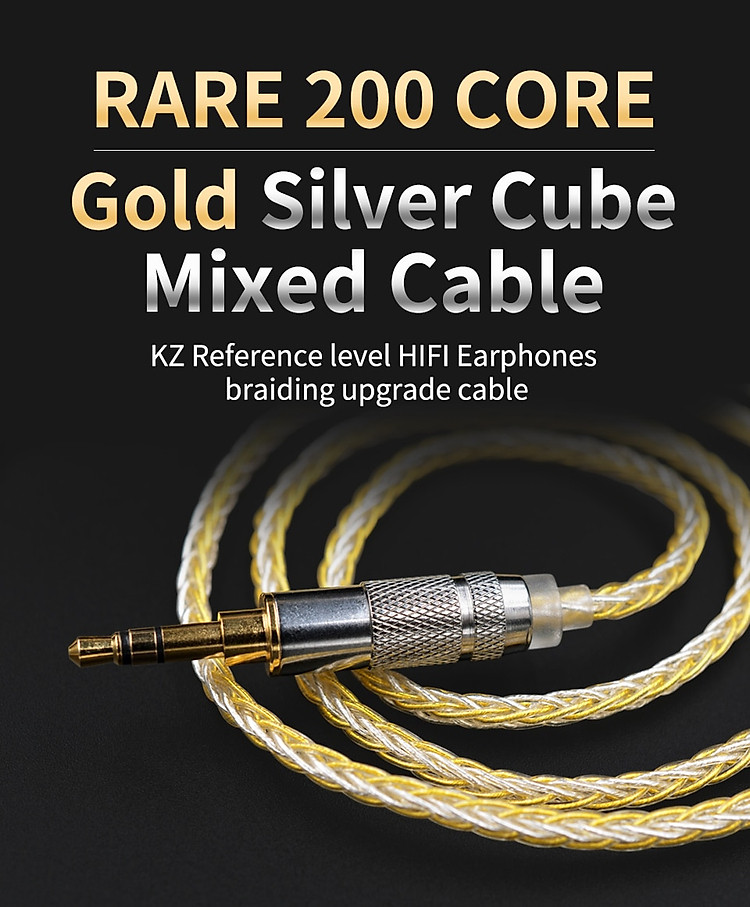 The breakthrough of others is only our normal operation.Comparing with the market price of 300-500 yuan of high purity oxygen-free copper " gold-plated + silver-plated" Mixed cable, we use data to prove our specialty.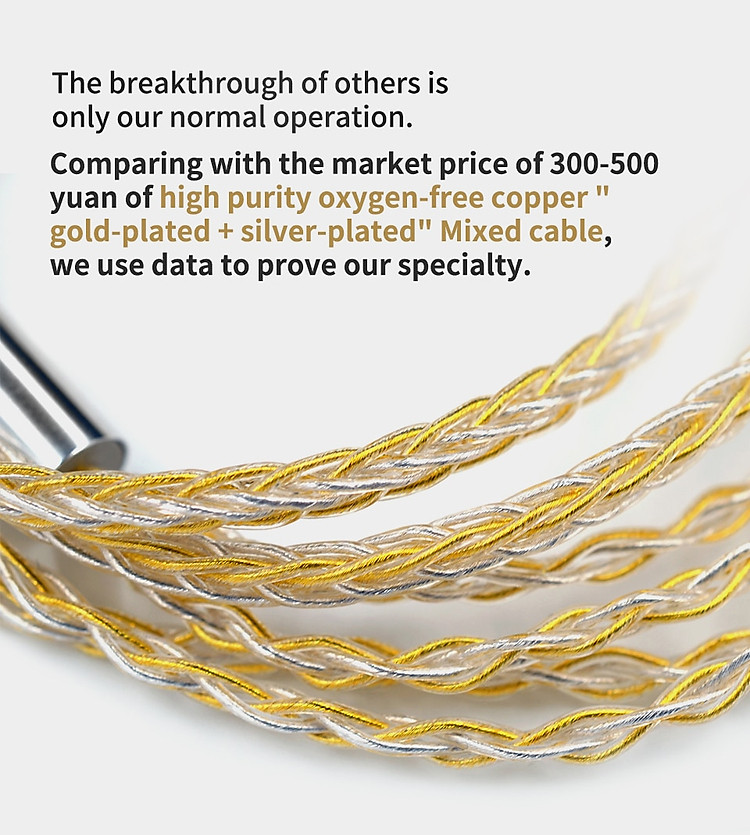 The design of mixed balanced braiding gives full play to the advantages of three different conductors. Achieve revolutionary sound quality
Gold plated film Micron-scale gold film can effectively protect the core from oxidation and keep its luster as new for a long time.
Oxygen free copper The metal copper is soft and durable, and has the characteristics of high ductility and high thermal conductivity. It is a raw material commonly used in the cable and electronics industries.
Silver plated The physical and chemical properties of metallic silver are relatively stable, and its thermal conductity and electrical conductivity are outstanding among alletals. The texture is soft and has good ductility.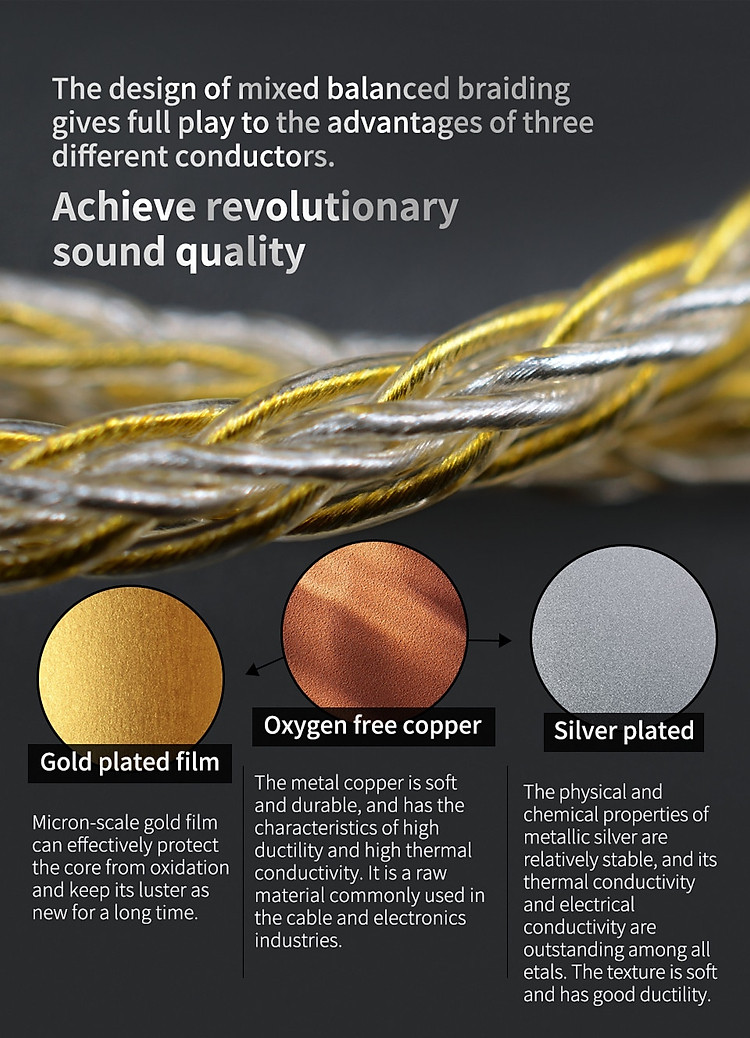 Single- strand 25-core 8-strand 200-core
More than 6 times the number of conventional wire cores in the market
Not stingy at cost, bring more powerful signal transmission ability than imagination.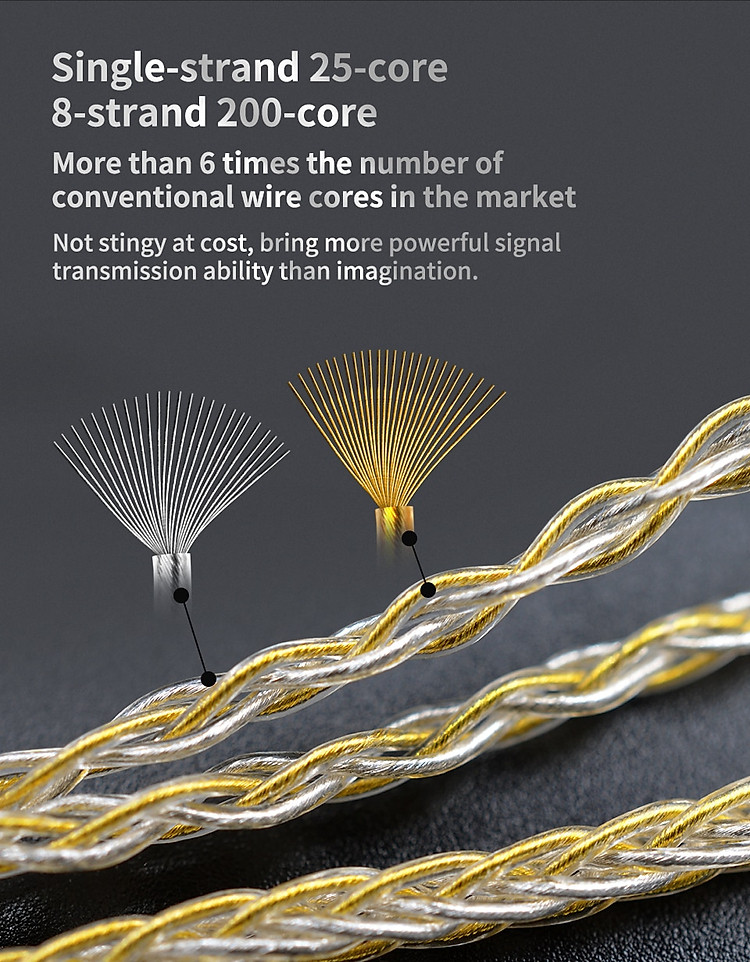 Where is the superiority of the gold silver mixed upgrade cable over the conventional cable
High-purity oxygen-free copper wire base, wide frequency range can accurately display clear and pure mid-bass rhythm response control. The addition of gold makes the tone more radiant and elastic, and the vocals are refreshing. Metallic silver makes the high-frequency silky and smooth, the details are full, and the sound transparency is particularly prominent.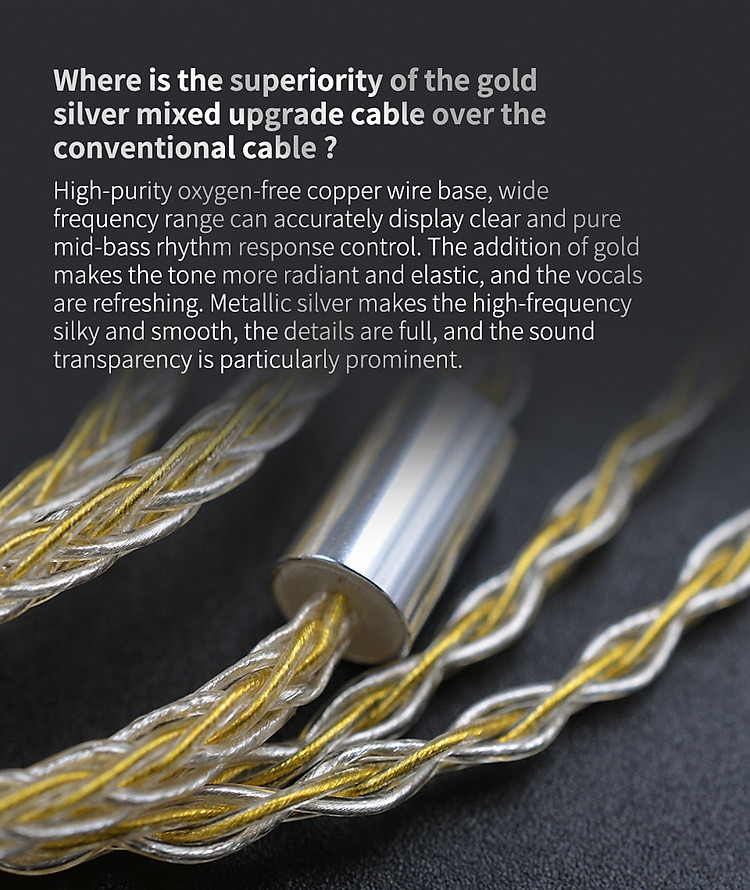 Strict and formal production testing process
Have a superior quality and reliability of
mass products
Salt spray test
flexing test
Plug in test
tensile test
Combustion test
Crash test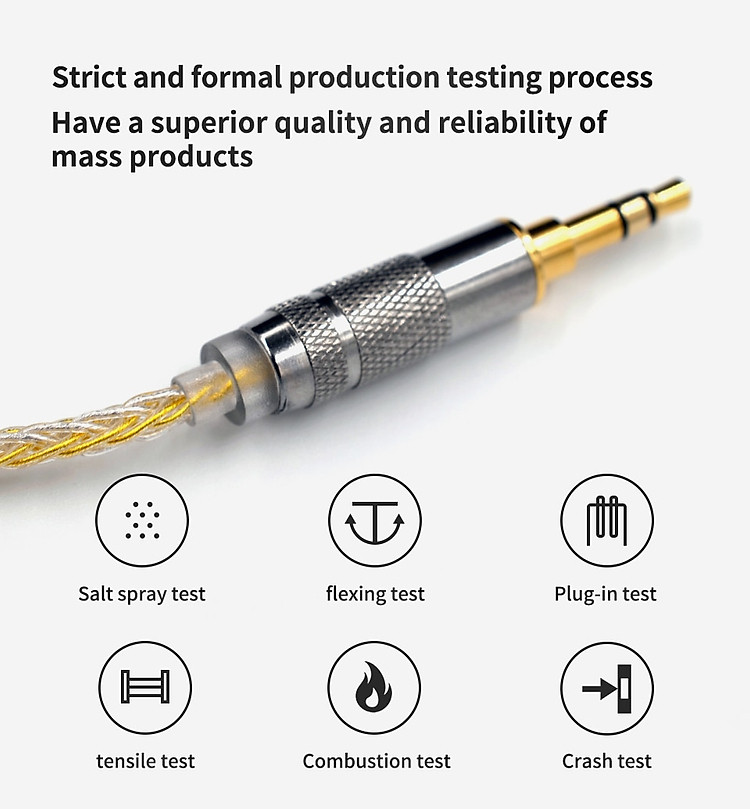 The average silver plating
layer thickness is 0.214um,
and the signal loss probability
is greatly reduced.
China Inspection and
Certification Group Certificate
Number: TRC17030117/CH
Built-in tensile high-strength Kevlar fiber is more resistant to wear and longer life
Kevlar fiber derived from body armor material, which is 4 times better than ordinary organic fiber.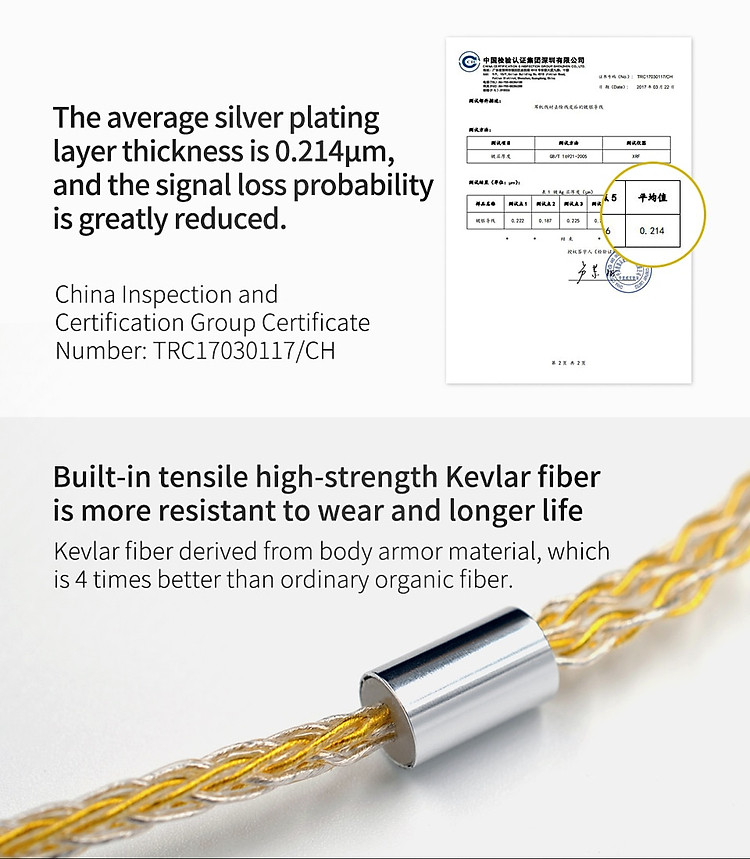 Cubic Braiding Techniques
Soft wire,effectively reduce stethoscope effect.
3.5mm Gold Plated Pin
The gold plating thickness is 3 times that of the conventional plug, the connection is stable, and the signal transmission rate is fast.
0.75mm Gold Plated Pin
Adapts to most pluggable wire headsets, extending the life of the earphones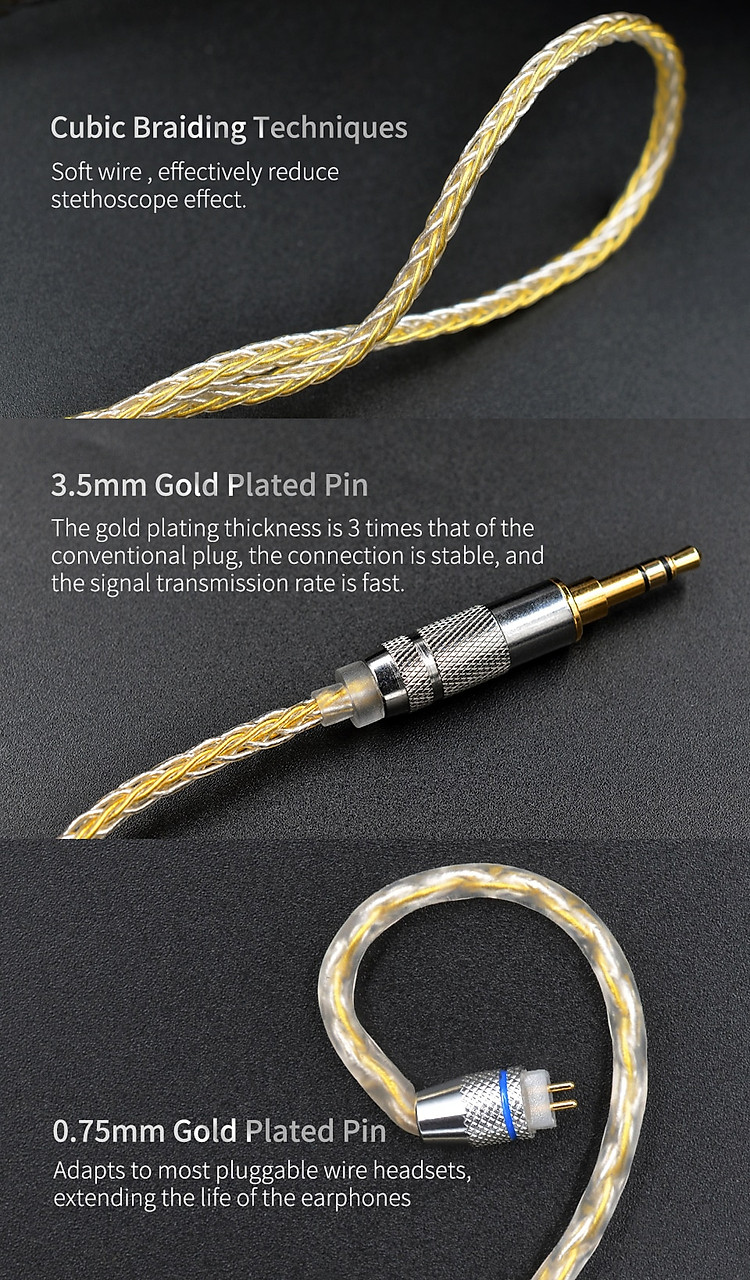 Steady ear winding design
Adapt different types of plug-in headphones according to the pin type.
B pin type
Adapt to KZ ZST/ZS10/AS10/BA10/ES4/ZSR/AS06 and other earphones
C pin type
Adapt to KZ-ZSN/ZSNPRO/ZS10 PRO and other earphones
MMCX pin type
Adapt to the earphones of most MMCX interfaces in the market
Product Display

Giá sản phẩm trên Tiki đã bao gồm thuế theo luật hiện hành. Tuy nhiên tuỳ vào từng loại sản phẩm hoặc phương thức, địa chỉ giao hàng mà có thể phát sinh thêm chi phí khác như phí vận chuyển, phụ phí hàng cồng kềnh, .....