BEFORE YOU PURCHASE PLEASE NOTED: This product is a product under the Xiaomi ecological chain. The product itself does not contain the Xiaomi logo
Note:The hand sanitizer must be foam hand sanitizer,(Transparent liquid, colorless and transparent, watery), Other hand sanitizers are not available. Please check carefully before order.
The package does not include liquid
Infrared sensor
Quick bubble generation
Temperature display
Type-C charging port
LED Room Temperature Display
Wall Mounted Separated Backplate Design
Uareliffe Automatic Hand Washer Type-C Rechargeable Induction Foaming Dispenser LED Room Temperature Display Screen Wall Mounted Separated Backplate Design Household Infrared Sensor Soap Dispenser For Bathroom Kitchen Washroom WC
Note:
The hand sanitizer must be foam hand sanitizer,(Transparent liquid, colorless and transparent, watery)
Other hand sanitizers are not available. Please check carefully before order.
The package does not include liquid

Features:
Infrared sensor
Quick bubble generation
Temperature display
Type-C charging port


Specifications:
Battery capacity: 1200mAh
Weight: 360g
Liquid capacity: 280ml
Rated power: 3W
Input current: 0.6A
Product size: Around 165mm × 125mm × 65mm
Descriptions:
Introduction of Wall-Mounted
Automatic Induction HandWasher
Automatic foaming via induction,
no contacts, more hygienic.
Infrared Sensing / Rapid Foaming
Temperature Display/ Type-C Charging Port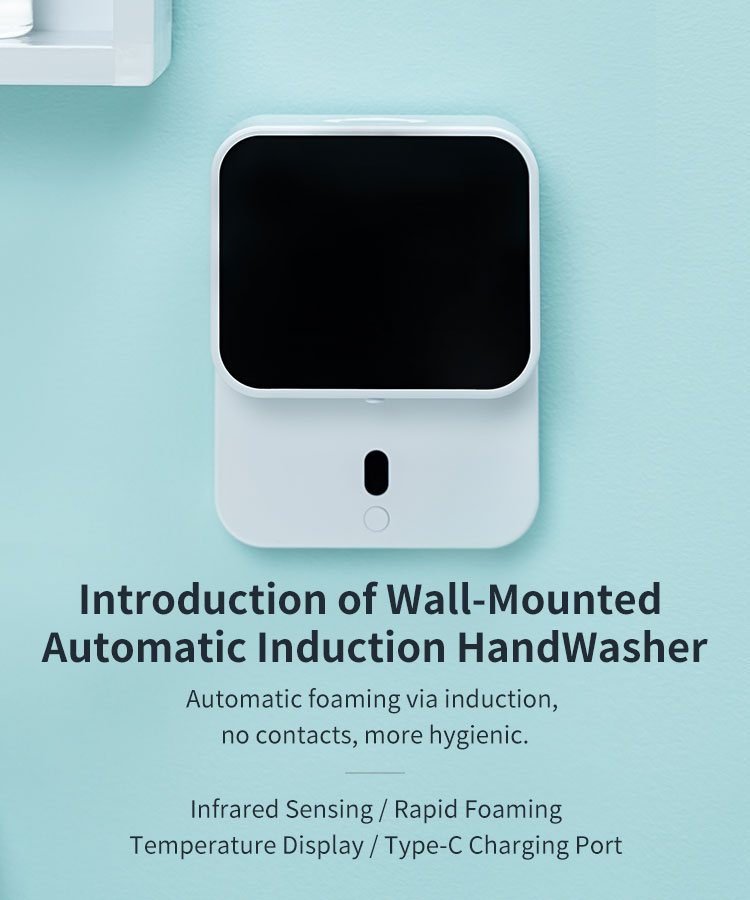 Infrared Sensing
Rapid Foaming
Temperature Display
Type-C Charging Port

Wall-mounted design,
lightweight does not occupy an area.
Simplified and compacted,
Suitable for bathroom, kitchen, public places
and other environments.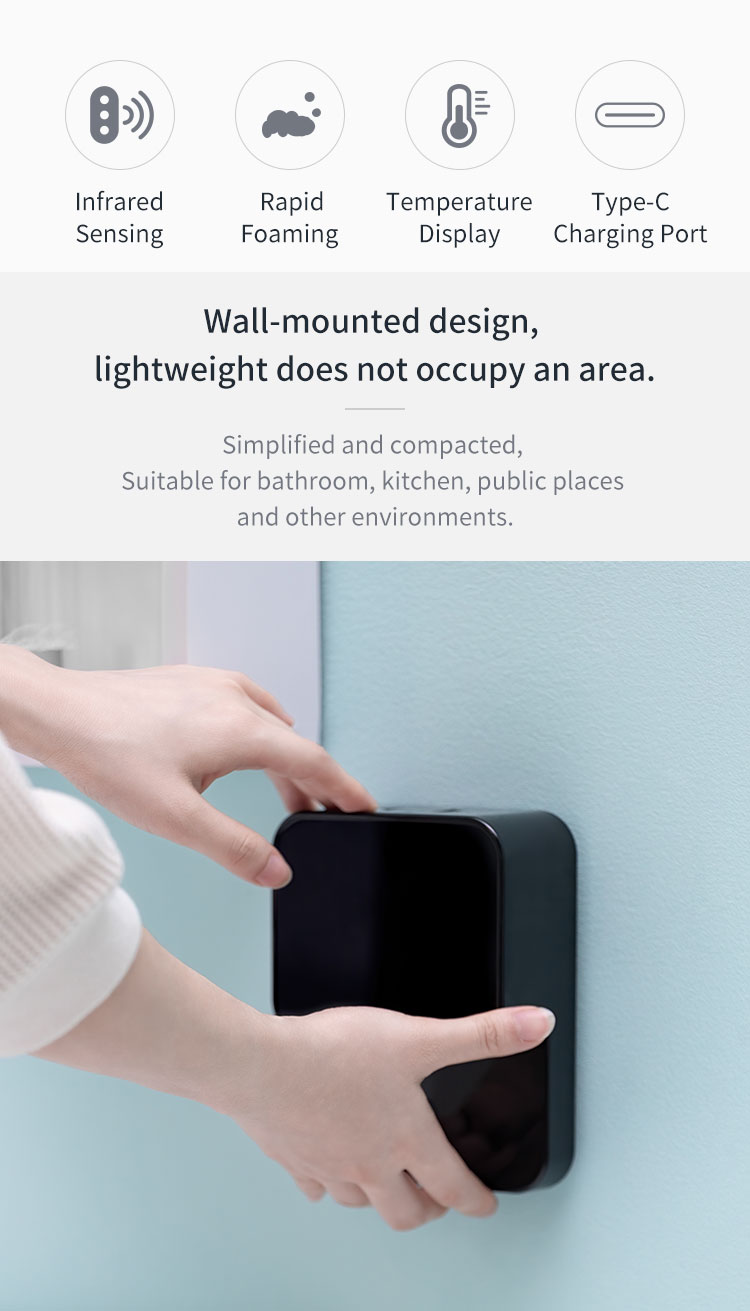 Infrared sensing bubbling
No contact, More healthy.
Bubbling quickly once reaching out to the foaming area,
No contacts, no presses, healthy and more hygienic.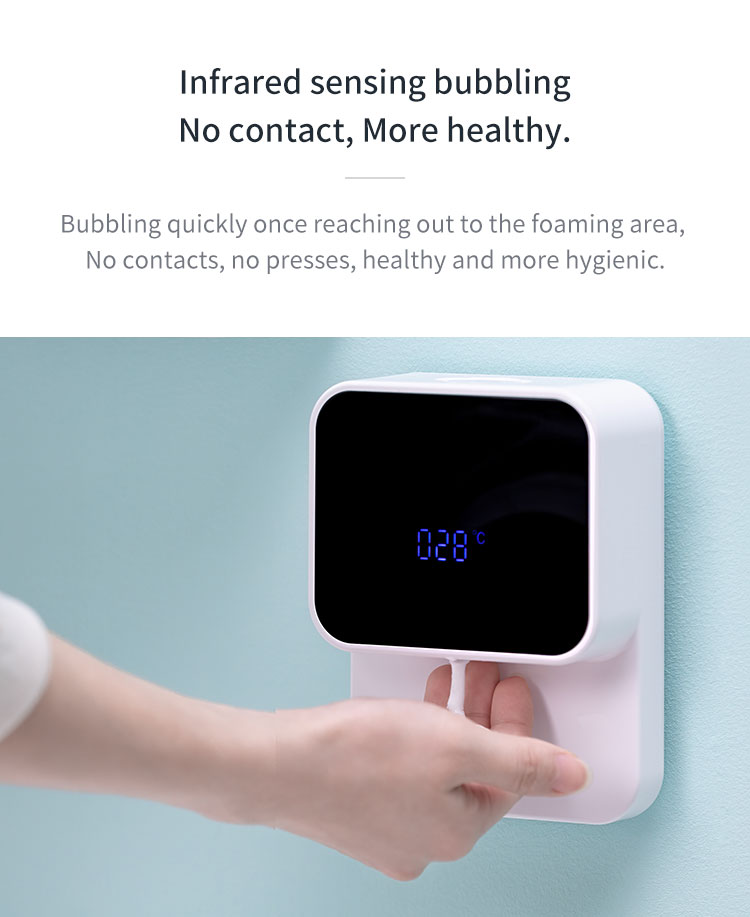 Foaming with you wanted, deep cleaning.
Control the foaming ratio as you wanted,
More soft foaming to fit your hands,
Clean your hand skin more thoroughly.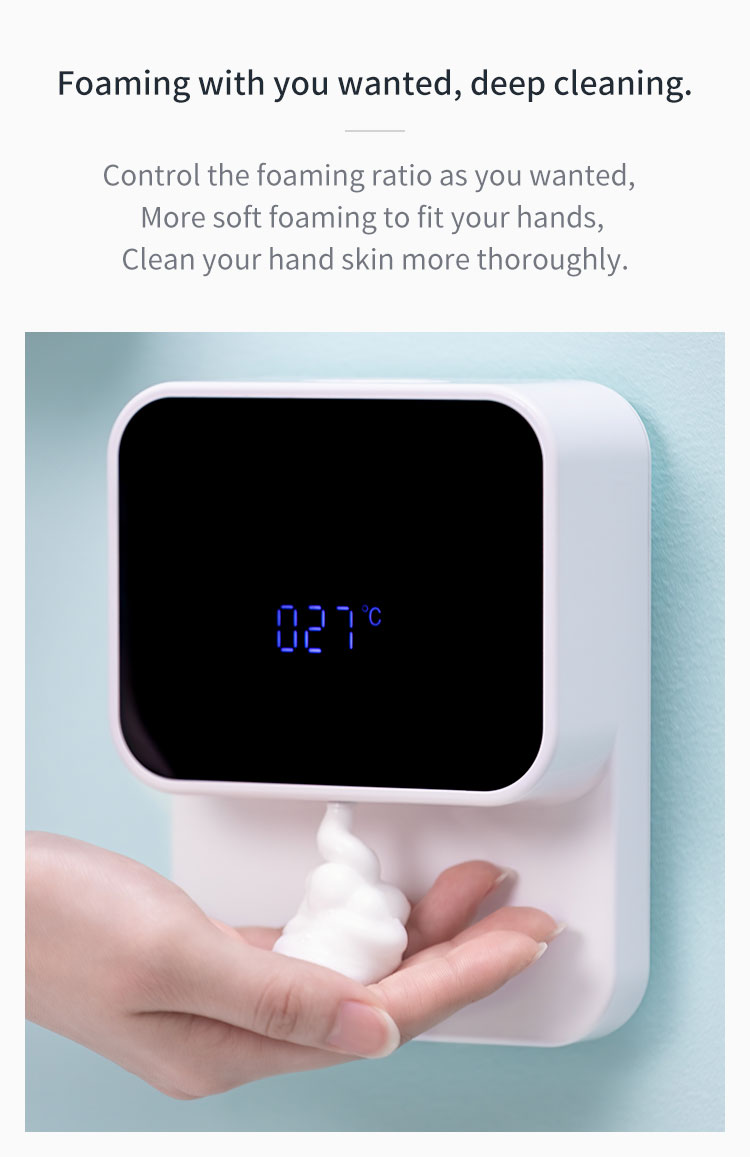 Built-in battery, popular Type-C charging,
Portable and environmentally friendly.
The built-in lithium battery can be charged via the side
type-c interface, Combined with a extreme power saving,
long battery life, Overall liquid leakage protection.
*Sustains for more than 45 days after being full charged,
Application may be limited with environment.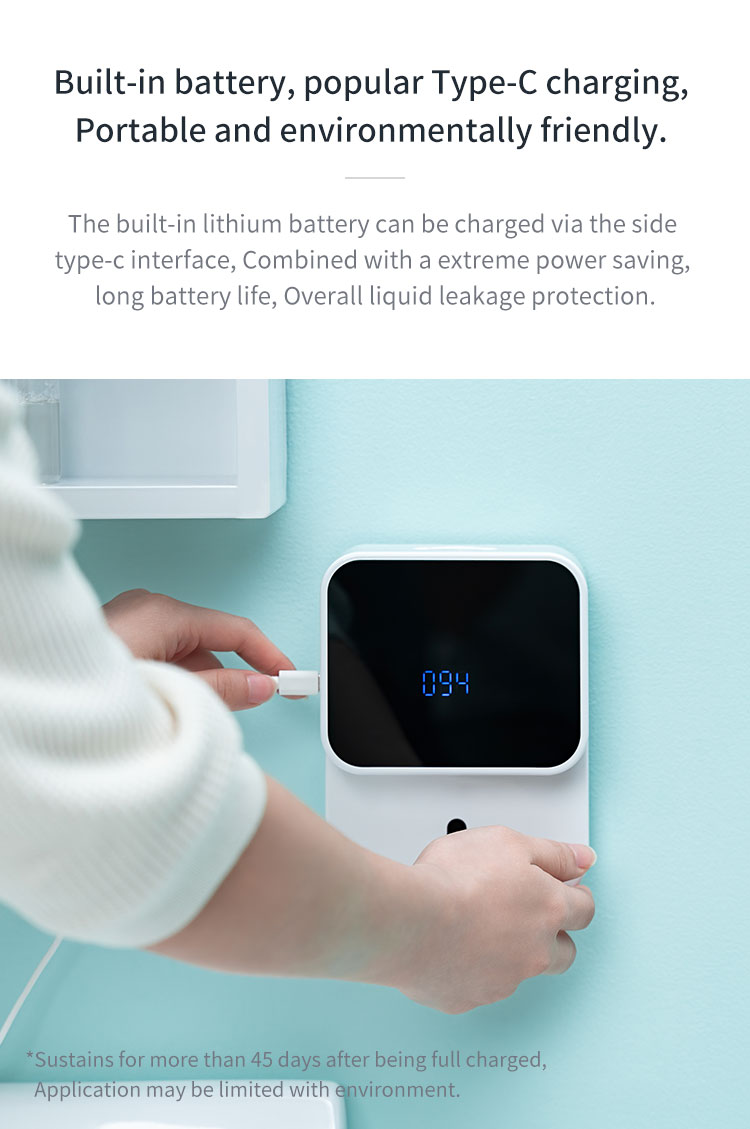 LED display with blindless.
Room temperature detection, switch statuses
and remaining charge statuses, Unforgettable.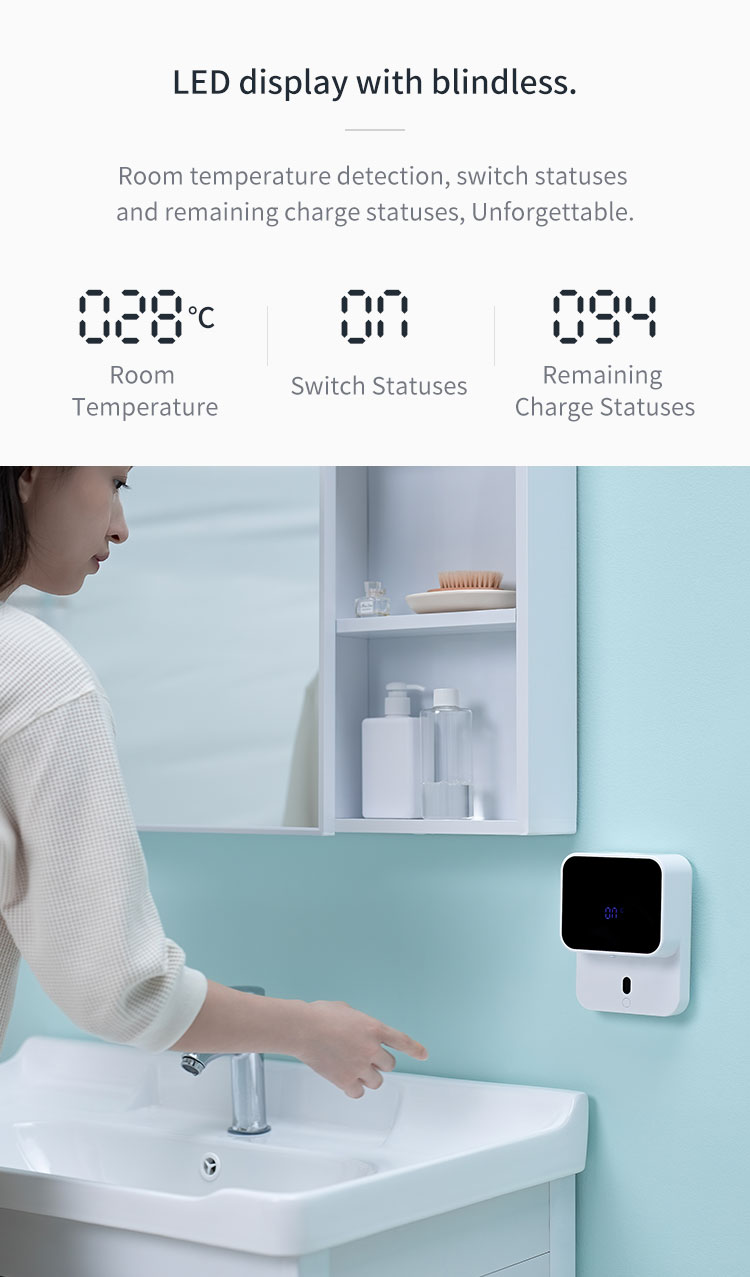 Extreme storage for long duration.
There is a large storage space for lotion in the body,
so there is no need to add lotion frequently.
*More than foaming 230 times.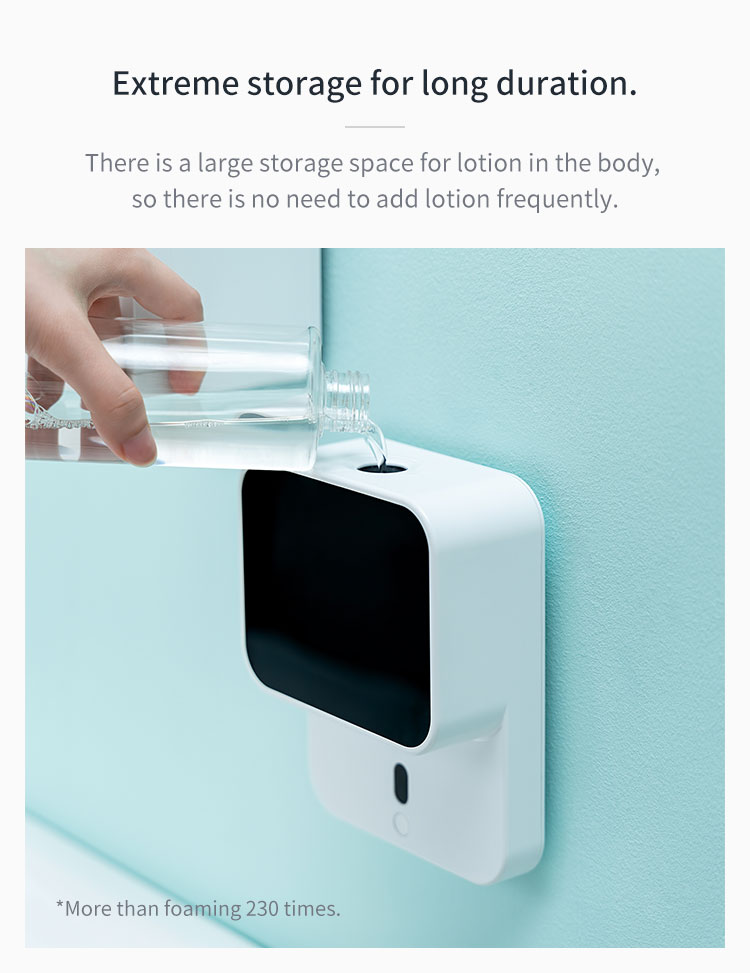 Separated backplate design,
easy installation.
Quick installation.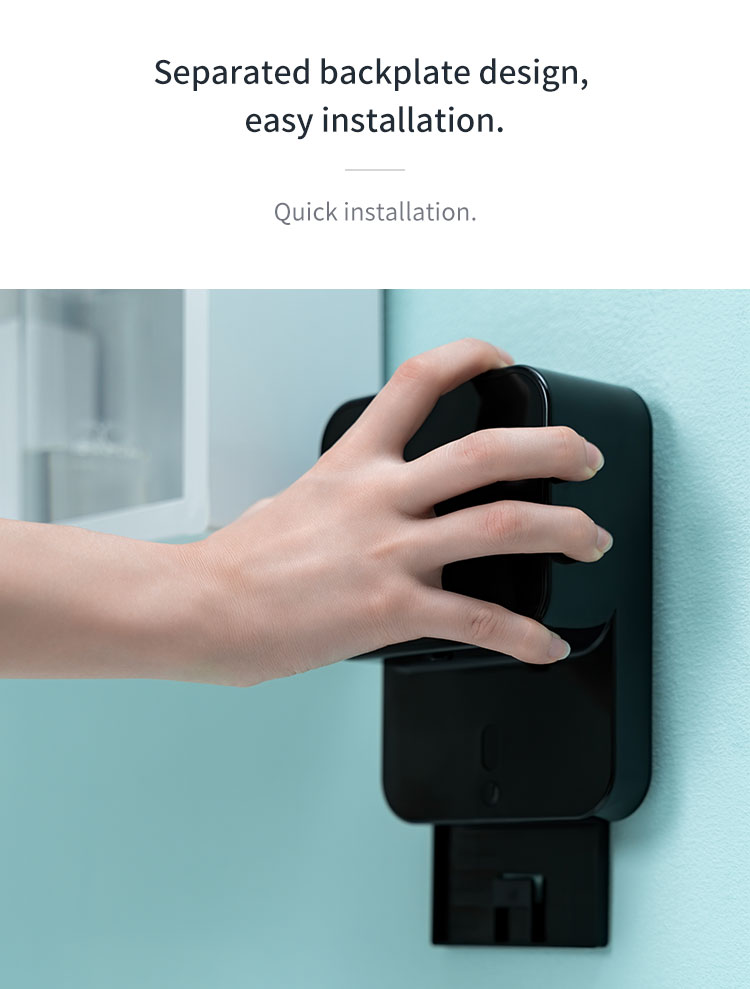 Power Button
Long press for power ON,
long press again for Power OFF.
Short click to show power capacity
Double short press for switching the temperature displaying
(Celsius or Fahrenheit)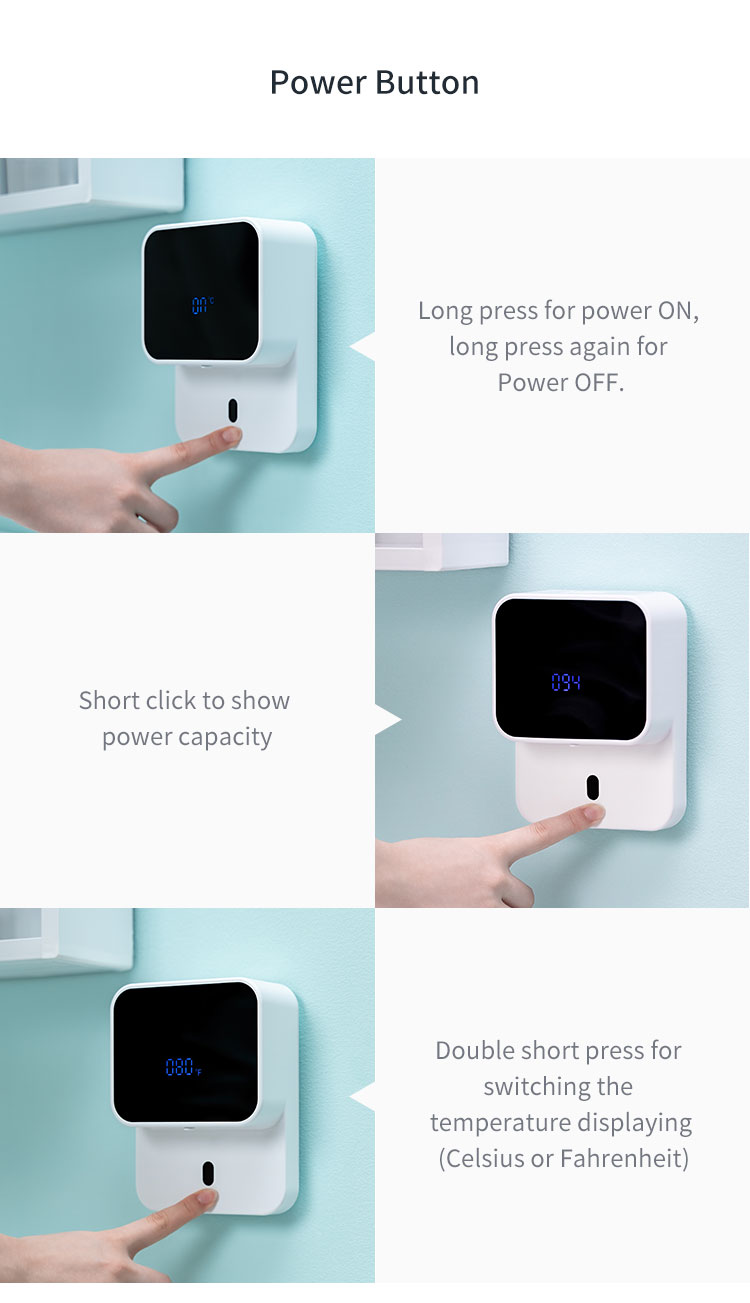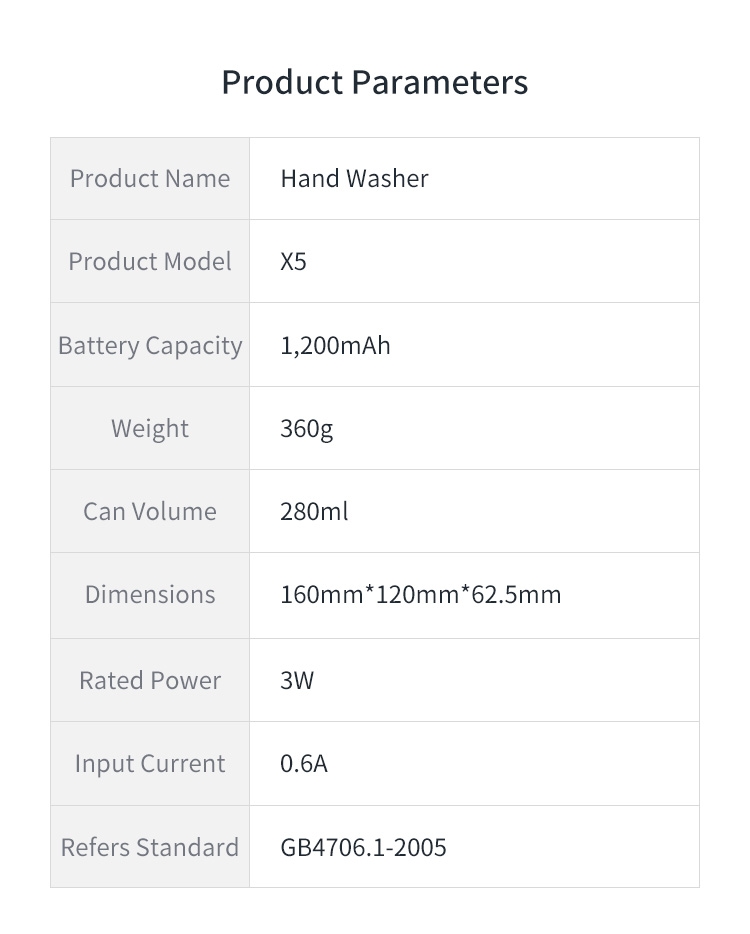 Giá sản phẩm trên Tiki đã bao gồm thuế theo luật hiện hành. Tuy nhiên tuỳ vào từng loại sản phẩm hoặc phương thức, địa chỉ giao hàng mà có thể phát sinh thêm chi phí khác như phí vận chuyển, phụ phí hàng cồng kềnh, .....