Kích thước sản phẩm : 10x10x7 cm Ngôn ngữ : tiếng Anh Độ tuổi phù hợp : 17+ Số người chơi 1 game : 5-10 người Mỗi khi bạn chơi The Voting Game, bạn sẽ phát hiện ra bạn bè của mình thực sự là ai. Chiến thắng là có thể nhưng không quan trọng. Đi lang thang và kể chuyện được khuyến khích. Thẻ ID người chơi xác định từng người chơi, thẻ biểu quyết để đặt phiếu bầu và thẻ câu hỏi là những câu hỏi bạn bỏ phiếu.
Components
160 Question Cards
90 Voting Cards
Rulebook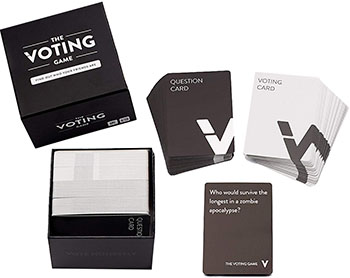 Setup
Give each player a colored number card. Place it in front of you.
Give each player a white number card with every number except the one on their colored number card.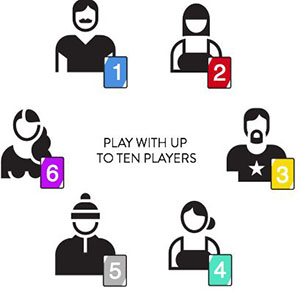 Game Play
Question
Draw a black question card and read it out loud, or come up with your own question. The player who most recently called their mother goes first.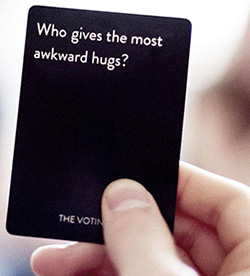 Vote
Use the white number cards to vote for the player who is the answer to the question. Everyone must vote, including the person who asked the question.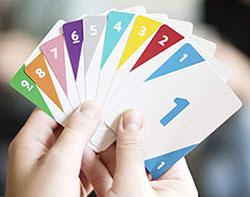 Reveal
The player who asked the question collects the votes anonymously and reveals them to the group.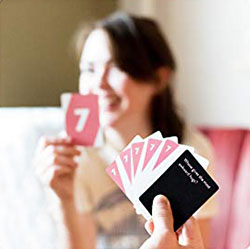 Guess
For each vote received, players can guess one person who voted for them. If they guess correctly the truth is revealed. Left of questioning player guesses first.
Score
When a player receives at least half of the votes, they keep the black card.
Repeat
The next player asks a question.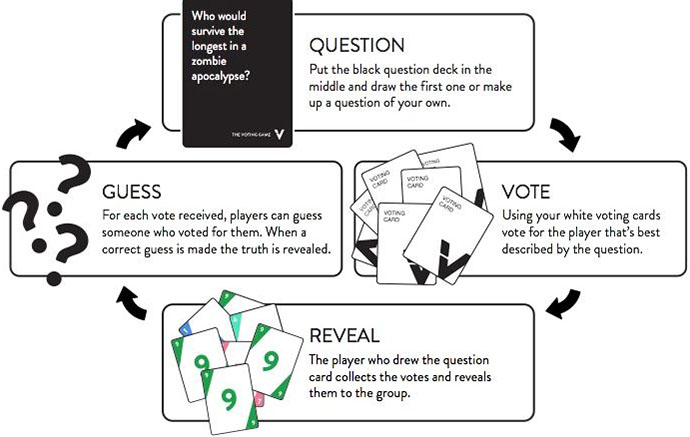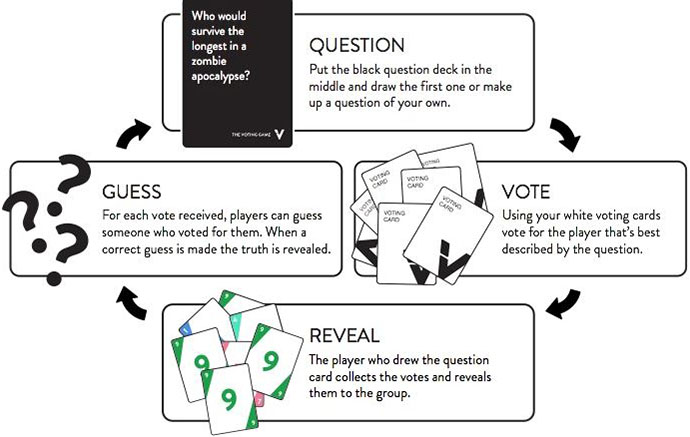 End of the Game
The first player to 6 black cards wins.
Ties are decided by the dealer.
House Rules
Drink
When guessing who voted for you, correct guesses mean that they drink and incorrect guesses mean you drink.
Originals
Keep the black deck off to the side and only allow original questions.
Shots
When someone receives 100% of the vote (not counting their vote) they must take a shot.
Selfie
Give players a voting card with their own number on it. You can vote for yourself. 9 players max.
Straight Up
Votes aren't anonymous. Count to 3 after everyone has decided who they will vote for and reveal them all at once.
Draw Three
Draw three black cards when it's your turn and pick your favorite. Return the remaining two to the bottom of the deck.
Tips
Circle
Sit in a circle and pass out the colored cards in order. 1,2,3,4 etc.
Presentation
Get creative with how you reveal the votes. Half the fun is in your presentation.

Example Question Cards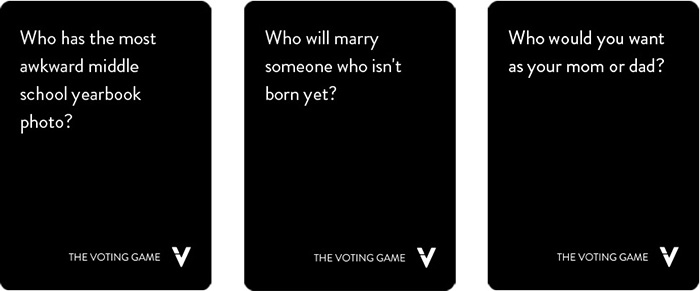 Who would try to talk down the price of Girl Scout Cookies?
Who will show up to their high school reunion in a Lamborghini rental?
Who clogs the toilet at their friend's house and says nothing?
Whose Google search history would you like to see the most?
Who would have the hardest time talking their way out of an insane asylum?
Who will become really spiritual after a trip to Asia where they stayed at a 5-star hotel the whole time? ,Who was the oldest when they stopped believing in Santa Claus?
Who will marry someone who isn't born yet? ,Who will win the lottery but lose the ticket?
Who will get into a fight with an elderly person and lose?
Who would be the best partner at trivia night?
Who would be your one phone call if you got arrested?
Who would survive the longest in a zombie apocalypse?
Who would be able to give the best toast right now?
Who is first in line for hell?
Giá sản phẩm trên Tiki đã bao gồm thuế theo luật hiện hành. Bên cạnh đó, tuỳ vào loại sản phẩm, hình thức và địa chỉ giao hàng mà có thể phát sinh thêm chi phí khác như phí vận chuyển, phụ phí hàng cồng kềnh, thuế nhập khẩu (đối với đơn hàng giao từ nước ngoài có giá trị trên 1 triệu đồng).....