Color: Black HiFi: support Bluetooth Vision:4.0 Channel:5.0 channel Distortion rate: 0.01% RMS: 200W+200W+80W Max power: 400W+400W+120W Supplied with remote control

Description:
1.This Amplifier is a multi-functional surround sound amplifier that's suitable for hi-fi, home cinema, or for small PA and karaoke events!
RCA inputs and jack input can connect with all types of audio equipment - such as MP3 players, DVD players and computers, and can output the sound to a total of 5 speakers.
3.As a useful addition to its hi-fi and home cinema function, it also features two front-panel microphone inputs which allow you to entertain at PA-events, karaoke parties, or at meetings.
4.The device also offers an integrated radio receiver to tune into all your favorite radio stations.

Feature :
1.5.0 speaker connections amplifier with radio
2.920W max. Overall Performance
3.Adjustable microphone volume
4.Supplied with remote control
6.LED display
8.Support FM radio.

Specification:
1.Max power: 400W+400W+120W
2.Rated voltage: 220V
3.RMS: 200W+200W+80W
4.Distortion rate: 0.01%
5.Impedance: 4-16 ohm
6.Channel:5.0 channel
7.Type of power amplifier: AV power amplifier
8.HiFi: support
9.Bluetooth Vision:4.0
10.Color: Black
11.Material: aluminum alloy

Package Include :
1 x Amplifier,
1 x Remote control,
1 x Antenna,
1 x Manual

Note:
1.Please press the mode button to choose mode before being used.
AUX/Line:Press until the word "AUX/Line" is displayed on the screen.
FM:Press until the word "FM" is displayed on the screen.
Bluetooth:Press until the word "BLUE" is displayed on the screen.
2.The transparent insulating colloid under the remote control need to be taken out before being used.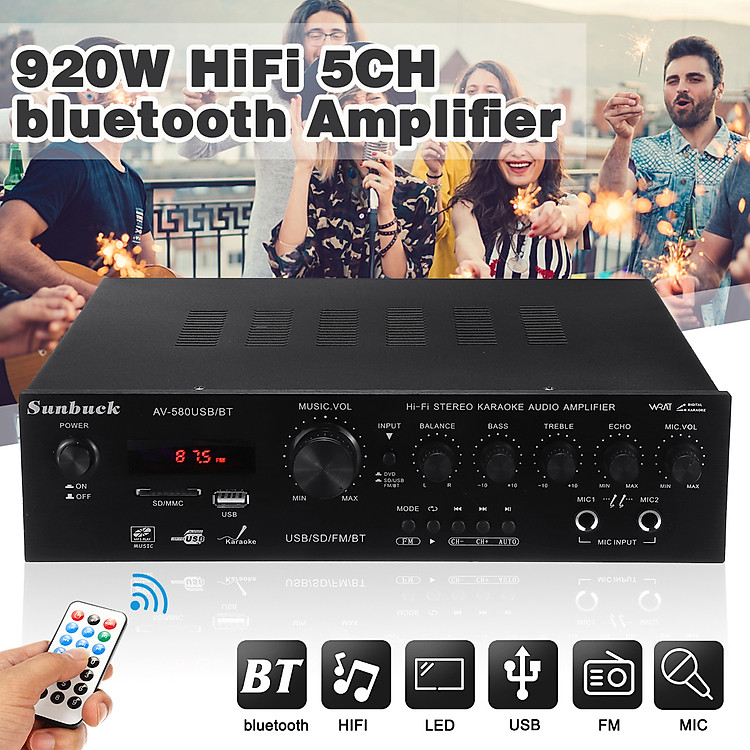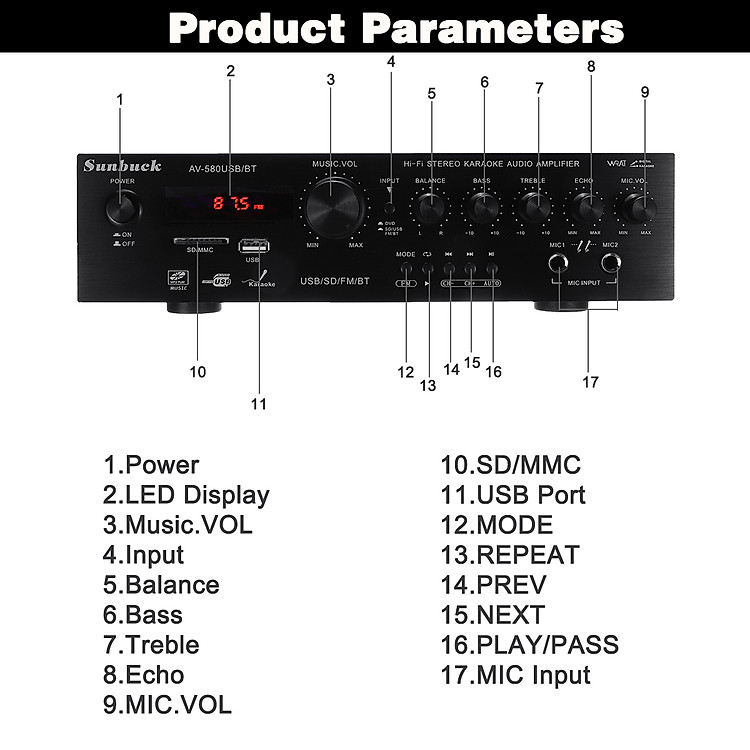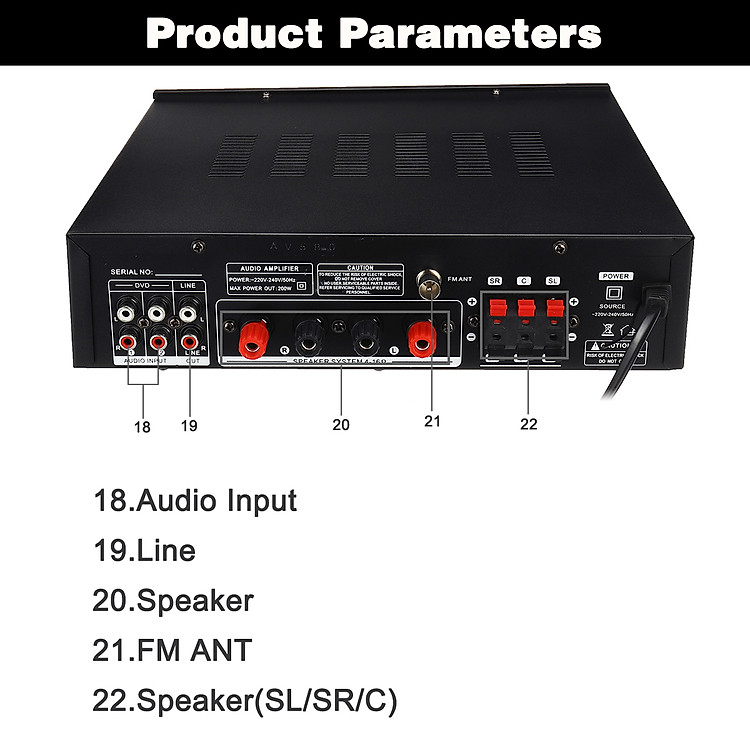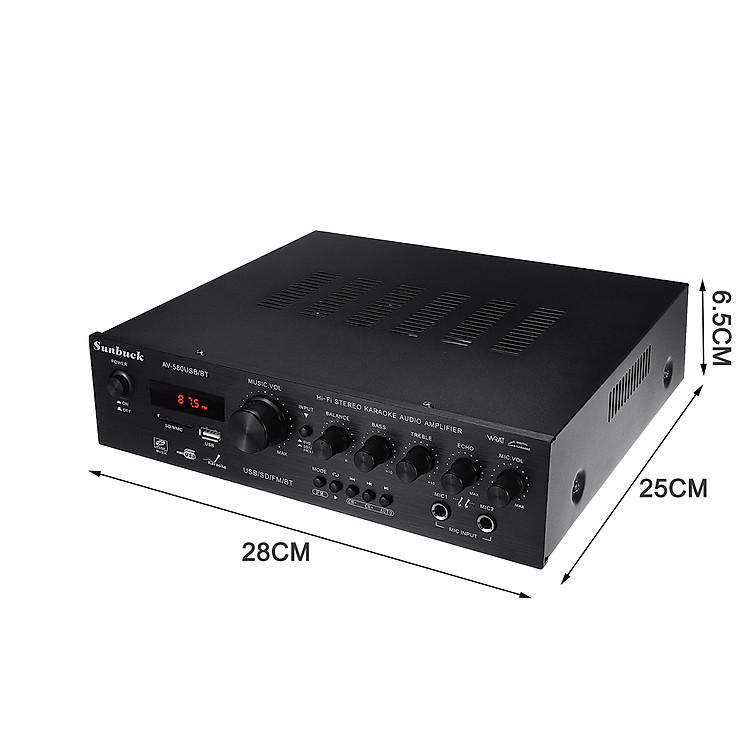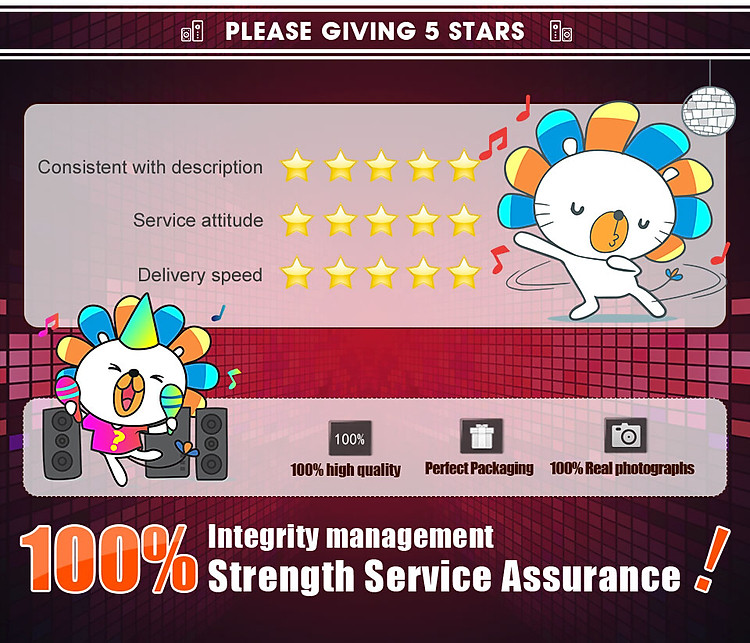 Giá sản phẩm trên Tiki đã bao gồm thuế theo luật hiện hành. Tuy nhiên tuỳ vào từng loại sản phẩm hoặc phương thức, địa chỉ giao hàng mà có thể phát sinh thêm chi phí khác như phí vận chuyển, phụ phí hàng cồng kềnh, .....