Want to know the best way to thwart the ghost that haunts your local convenience store? Or how to crack a top secret code? Find out in this jam-packed guide featuring tips, activities, and the show's trademark quirky humor.
From Dipper's advice on how to handle the supernatural, to unlocking codes and ciphers, to taking Mabel's fun quizzes, this imaginative guide is sure to be a hit with fans of the show!
This hardcover book in the best-selling Guide to Life format features 160 pages of hilarious journal entries, full-color images, and a double-sided pull-out poster!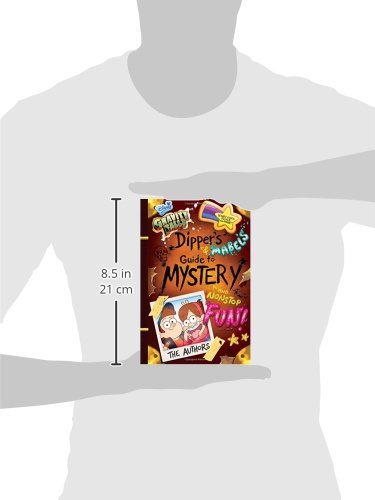 About the Author
Rob Renzetti is the creator of the Nickelodeon series My Life As a Teenage Robot. He has worked as a producer, director, storyboard artist, and writer on shows such as Gravity Falls, My Little Pony: Friendship is Magic, Dexter's Laboratory, Powerpuff Girls, Samurai Jack, Foster's Home for Imaginary Friends, and Family Guy.
Shane Houghton is a writer and creator of comics and animation. Along with his brother Chris, they are co-executive producers and the creators of Country Club, an animated comedy series set to premiere on Disney XD in 2018. Previously, Shane was a staff writer on Nickelodeon's Harvey Beaks. Shane is also the writer and co-creator of the Reed Gunther comic book series, and has written for many licensed comic properties as well.
Stephanie Ramirez, a Los Angeles native, has worked in the animation industry as a character designer and freelance artist since 2007. Her credits include television shows such as Gravity Falls, Clarence, and Rick and Morty. Stephanie has also illustrated Don't Color This Book! and Journal 3 for Disney Publishing Worldwide. Stephanie is currently a designer on Disney XD's Star vs. the Forces of Evil, and lives with her boyfriend and her cat Itty Bit Ramirez.
Giá sản phẩm trên Tiki đã bao gồm thuế theo luật hiện hành. Bên cạnh đó, tuỳ vào loại sản phẩm, hình thức và địa chỉ giao hàng mà có thể phát sinh thêm chi phí khác như phí vận chuyển, phụ phí hàng cồng kềnh, thuế nhập khẩu (đối với đơn hàng giao từ nước ngoài có giá trị trên 1 triệu đồng).....